All About Udaipur | The City of Lakes: Udaipur is known as the city of lakes filled with tranquility and is popularly known as the City of Dawn. This city is beautiful by nature, and in addition to its beauty, it also has a very rich social, natural, and cultural heritage, ecological and aesthetic wealth. The scenic beauty of the city is preserved in its lakes, opulent and serene Aravalis, beautiful gardens, harmonious monuments, and lush green vegetation.
Lake Pichola is considered to be one of the most valuable properties of Udaipur which has a very important role in Developing the beauty of the city and attracting visitors to the city from time to time.
Udaipur, formerly known as Mewar, is a very old kingdom in Rajasthan. Even today, people still often find that the city evokes a great sense of pride and ancient aura among its citizens. There is no doubt that Udaipur is a historic city because it is the capital of Mewar ruled by Maharana Pratap.
East Venice and other Kashmir in India are other popular names for the city. Cultural heritage in the widest form can be found in Udaipur. Because of the interconnected lakes, it has a huge water storage capacity. The mountains, habitats, and lakes of Udaipur demonstrate the incredible harmony between the built environment and nature.
Udaipur's traditional joint heritage
Udaipur is famous for its traditional heritage. It is subtly integrated into the lives of the people of Udaipur, and to a large extent, it is reflected in people's behavior and gives them a strong unity. Heritage is the most important part of the lives of the people of Udaipur, preserved in the city in a special way. There are many other cities in India that have a very rich heritage, but the heritage processed and preserved in Udaipur cannot be found in any other city or state in India. The social environment and climate of Udaipur are very favorable and pleasant for tourists. Due to its numerous religious and historical sites, the city has been successfully attracting domestic and foreign tourists. The region is constantly undergoing cultural changes, tourism growth, and it is also found that the culture of Udaipur can be seen even in other cities and states in India.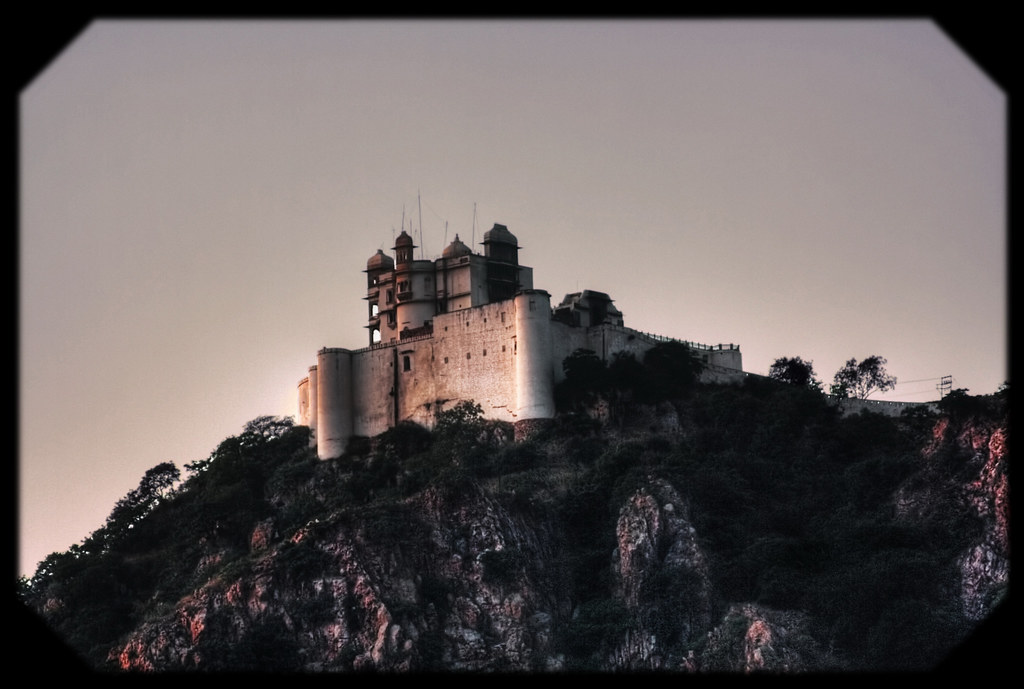 Location of Udaipur
Udaipur is a city dating back to 1559 A.D. As the capital of Mewar and is located on the east side of Lake Pichola. The city has a very rich internal space, composed of natural flora and fauna. The city is located in the center of Aravali and offers you many, of course, very beautiful corners. Udaipur also includes several historical sites such as Havelis, Kunds, palaces, temples, and Bavaris. It is surrounded by mountains and has a pleasant climate. It transformed the city from a small town into a major tourist destination. Udaipur also has a palace. The entire city is surrounded by walls.
The city wall was built in 1770 and consists of nine gates. Many communities specializing in different types of handicrafts and living in different places, galis and mohallas in Rajasthan, regardless of religion and caste, have participated in and committed to the construction of monuments in Udaipur. We live in harmony and support each other from generation to generation.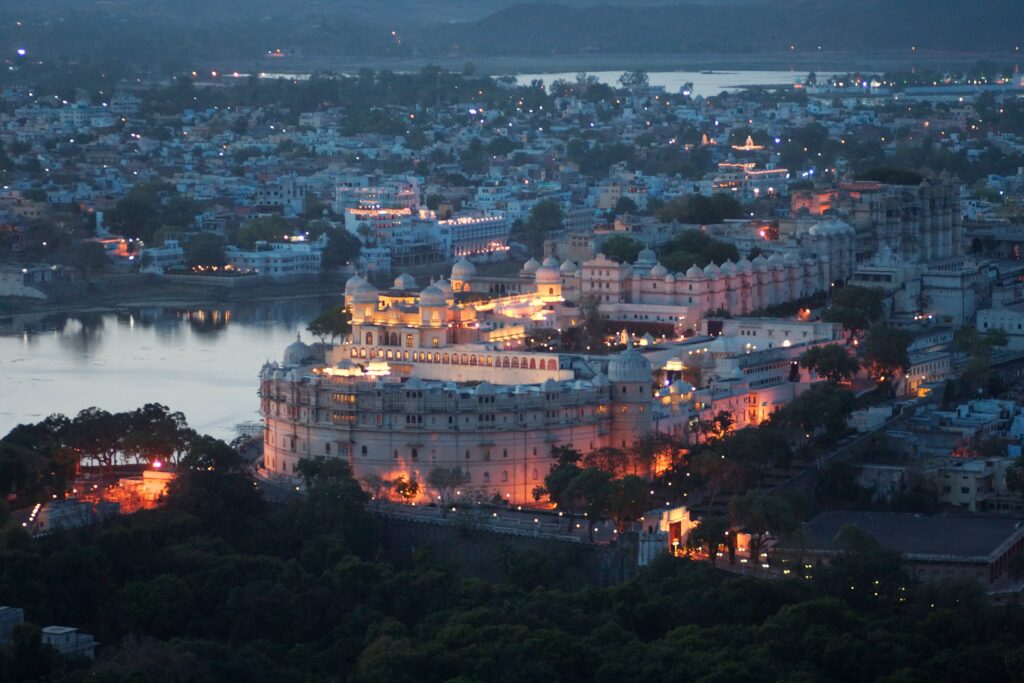 Udaipur – A beautiful lake city
Udaipur is considered to be a place like a sky and is also rated as the most beautiful city in Asia. The city is 403 kilometers away from the capital Jaipur of Rajasthan. The city used to be the capital of Mewar, and its residents believe Atithi Devo Bhav. For this reason, tourists and guests in Udaipur are treated more warmly than any other city in Rajasthan. The city was founded by Maharana Udai Singh and Sisodia's changed its capital of Mewar from Chittorgarh to Udaipur. When the British ruled India, Rajasthan did not regard Mewar as an important part, but after gaining independence, Rajasthan occupied Mewar.
Enjoy the tranquil lake
The Lake Palace is the main attraction of the city and one of the best hotels in the world. Located on a small island in the center of Lake Pichola, this palace showcases the greatness of the Rajputana Empire in Rajasthan. There are many historical sites in Udaipur, which have now been converted into hotels. There are six lakes in and around Udaipur, The City of lakes. The main lakes in the city are Pichola Lake, Swarup Sagar, Udai Sagar, and Fateh Sagar, and the other two are in the suburbs of Udaipur.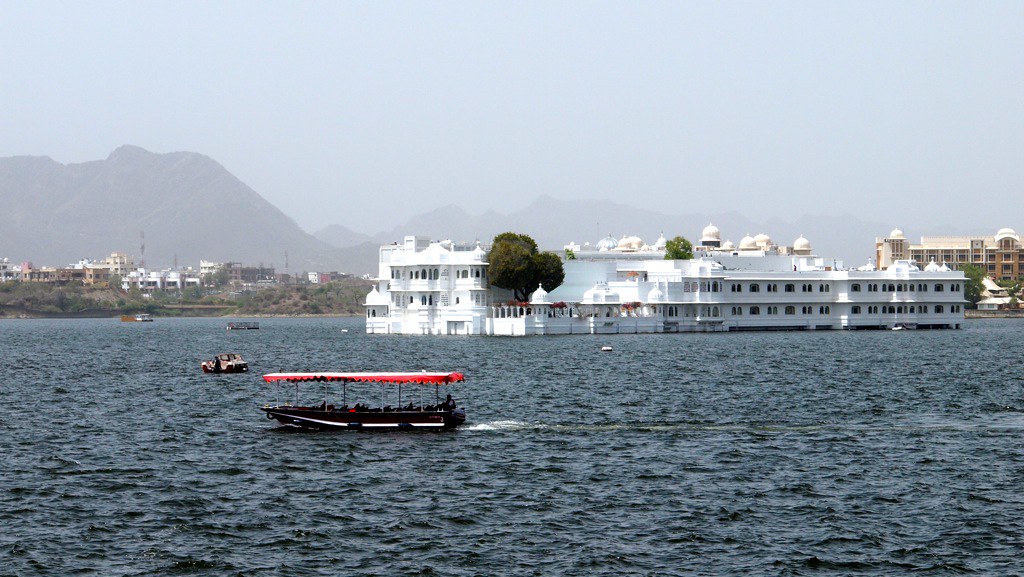 Festivals in Udaipur
Enthusiasm, there are plenty of trade fairs and festivals. The city is rich in culture and traditions. For this reason alone, Udaipur has a large number of markets and festivals, which people celebrate with great enthusiasm. city. These are Shilpgram Bazaar and Mewar Festival. Udaipur is home to many desert residents who celebrate these festivals and fairs with great enthusiasm. The residents of Udaipur celebrate the Mewar and Gangaur festivals at the same time. These festivals have important religious significance. The people of Udaipur celebrated it with the same enthusiasm. Shilpgram Fair is an exhibition held in Rajasthan to promote Rajasthan handicrafts. The fair is held in the last week of December.
Hariyali Amavasya
Hariyali Amavasya is another exhibition held in the City of lakes. The venue of the exhibition is Sahelion Key Bari and Fateh Sagar Lake in Udaipur. The fair lasted for two days, one of which was dedicated to the women of the city. Fateh Sagar Lake is called Shiv Sagar, named after the Duke of Cannaunght. To celebrate the victory of the dam, a moonless night was chosen during the rainy season. Since that day, the Haryali Amavasya Mass has been held in Udaipur, Sahelion Ki Bari.
Gangaur
Gangaur is also a festival in Udaipur, celebrated by women performing a puja called Parvati puja. Gangaur is a festival celebrated after Holi, which is also a very famous festival in Udaipur. The cultural charm of Udaipur is given by the Kartik Purnima, Ashwan Puja, and Shriji's Birthday. Udaipur residents enjoy homemade candies, brightly decorated clothes, visit holy places and follow ritual traditions during these festivals.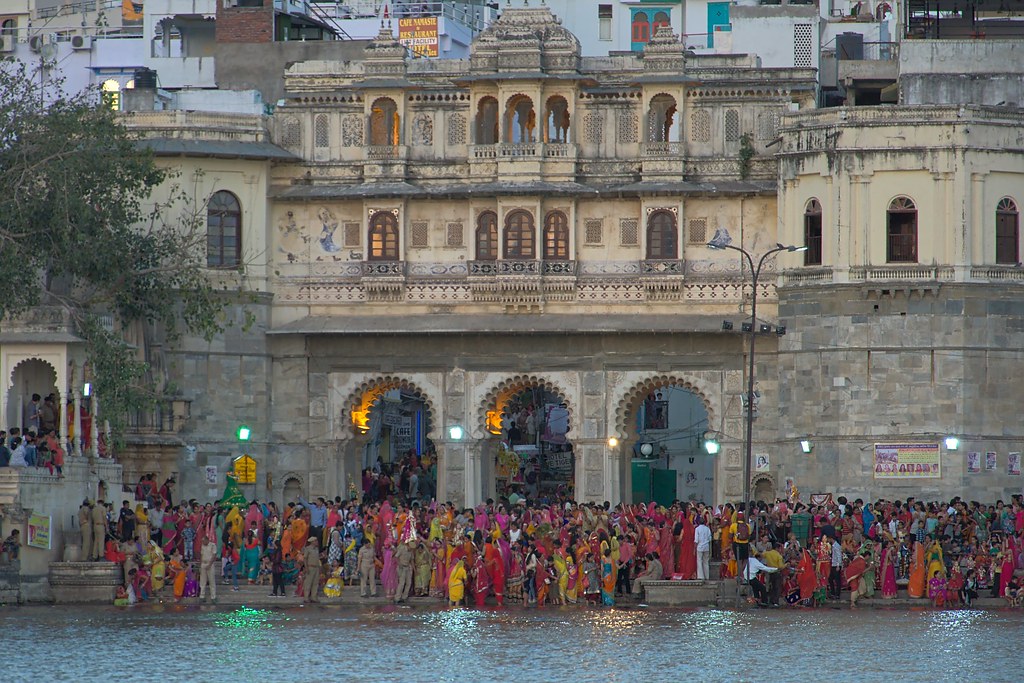 Art in Udaipur
Udaipur's Art is considered to have a magnificent and rich heritage of sculpture, art, marble and wooden crafts, and miniature paintings. Udaipur's art carries the embodiment of the royal essence, accompanied by the great spiritual virtues embodied by Mewar. In Udaipur, they are experienced in making Rajwadi molds and models. Udaipur is famous for its marble, woodwork, and sculptures. Played an important role in ensuring the high standards of Udaipur's artistic norms. These arts really paved the way for the Udaipur art world.
Traditional dances in Udaipur
There are many lively and interesting dance forms in Udaipur. Ghumar is a world-renowned dance form that represents popular art and culture. Gait and gait Ghoomar is local dances held on Holi. Chari dance is also very popular in Udaipur. It is a dance form in which dancers wear pots and lamps on their heads. Kacchi Ghodi is another form of dance in which the dancer acts like a horse simulator. Other dance forms that are very popular in Udaipur are Pabuji ki Pach, Maand, Terah Tali, Drum dance, and Fire Dance.
Udaipur Folk Music
Udaipur Folk Music From ancient times to the Rajputana era, Udaipur folk music has been maintained in the atmosphere of Udaipur. The residents of Udaipur are still enthusiasts of heavy music because the rulers of the city have always loved music. When people hear the melody music of tanpura, sarangi, naad, morchang, and various other instruments, they feel great comfort.
Healthcare Facilities in Udaipur
Health in Udaipur Whether you belong to an international metropolis or a small town, health has always been a concern for everyone. In view of the possibility of providing the best medical services to the residents of Udaipur, various services have been provided. The Rajasthan government has established many public hospitals and nursing homes to provide affordable treatment to the rural population. Udaipur City is connected to various health centers to ensure a better and healthier life in the community.
Hospitals in Udaipur
Various hospitals have been established in the city to ensure a healthy lifestyle in the city. There are hospitals like Aravali Hospital in the town, Dr. Atray eye Hospital, Udaipur Hospital, and many other hospitals. GBH American Hospital is one of the most famous hospitals in Udaipur. It is a NABH accredited and ISO 9001: 2008 accredited hospital with advanced medical facilities in Udaipur. The hospital provides various medical facilities such as intensive care unit (ICU), emergency room, clean OPD, pharmacy, ambulance, etc.
Udaipur Nursing Home
There are also several nursing homes, including Kalpana Nursing Home Pvt Ltd, Shreyas Orphanage and Maternity Hospital, Bhaktawar Poly Clinic, and many others. Udaipur City is home to many health professionals such as nutritionists, occupational therapists, psychologists, and psychiatrists.