Ubeshwar Ji Mahadev Temple is a popular Shiva temple near Udaipur in Rajasthan. This place is really a piece of paradise, located on a green hill in the Ubeshwar district of Udaipur. A holy pond (Gangu Kund) on the premises is used for ritual bathing by locals.
Apart from the temple, there are numerous places within a 20-kilometre radius of Udaipur where you can experience nature's exquisite blessings. Though the weather in Udaipur is hot, it shines brighter with ecstasy during the Monsoon season. The beauty of Ubeshwar Ji is indescribable – a rain-washed, lush green valley covered in clouds that looks like a dreamland.
Things to do at Ubeshwar ji Temple
Wear comfortable shoes to the location because it is a natural setting with sand and stones. The area near the pond is slippery due to the water sprayed frequently, so be careful not to fall into the pond.
You can enjoy feeding the pond's fish with nothing but fish food.
The road to Ubeshwar Ji is not pleasant, and it is recommended that you travel carefully and cautiously, taking all necessary precautions.
Because there is no Petrol station nearby, make sure your vehicle's tank is full before travelling to the location.
Because you will be far from the city and there will only be a little kiosk nearby, bring enough food and drink with you. While taking in the scenery, the kiosk serves tea and delectable pakodas to brighten the atmosphere.
We recommend returning to the city before it gets too late, as the area lacks enough illumination and there is no suitable housing accessible near Ubeshwar Ji.
Ubeshwar Ji is a picnic site notable for the Mahadev temple, which is dedicated to Lord Shiva. The ringing of bells from the temple and the sight of people enjoying themselves by the pond can both indicate that you have arrived at your goal.
If you're lucky, you might be able to see some seasonal waterfalls cascading from the nearby water streams.
 Do not pollute the lake by throwing garbage or eatables.
Before starting the picnic, you can take a visit to the temple, however, please do not trash or make excessive noise on the temple grounds, as it is a place of worship.
If you value calm and meditation, you can avoid disturbing others by not talking loudly or eating on the grounds.
Udaipur is well-known for its beauty, traditions, and architectural marvels, but the fun doesn't stop there. On your trip to Udaipur, you can see magnificent landmarks and monuments that represent Rajasthan's harmony and pride. If you have finished sightseeing in Udaipur, there is a picnic spot nearby which is Ubeshwar Ji. One of the most popular spots that transform into a paradise is when the rain begins to fall and the water begins to flow.
Udaipur is surrounded by the Aravali Mountains, a scenic natural area where Ubeshwar Ji is chosen as a picnic location because of the admirable natural views combined with peace.
Ubeshwar Ji is one of many beautiful places outside of Udaipur that are ideal for a family outing or a day spent with friends. Located in a remote area, surrounded by the green valleys of the Aravalli mountains and seasonal rivers. You can go to the best destination with panoramic landscapes, which is 80 metres above sea level, and see for yourself.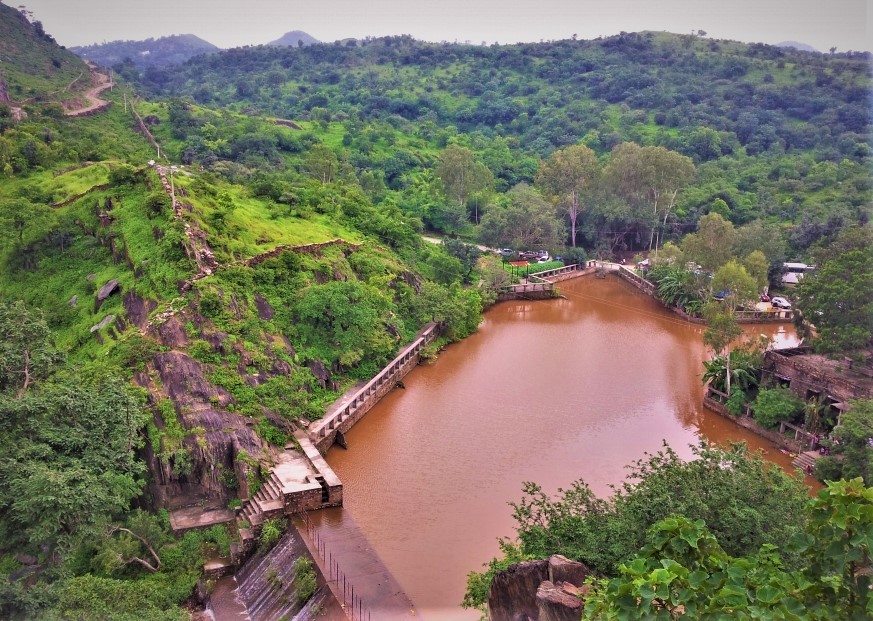 Ubeshwar Ji Udaipur Attractions
While visiting Ubeshwar Ji, you can absolutely enjoy the landscapes, rivers, waterfalls, and villages. You can stop by a temple on the bank of a small lake on your way to your destination. Following that, you can travel 6 kilometres from Ubeshwar to Dodavali village.
Nearby Locations
You can continue your exploration by going to a village called Dodawali, which is 6 kilometres away from Ubeshwar Temple. Furthermore, just 3 kilometres before Dodavali, the road splits, with Dodavali on the right and Pipliya on the left, which is 4 kilometres in the valleys from the turn. Pipliya is one of the most beautiful places in the world, with greenery all around the valley dividing two roads, one leading up to the mountains to Pipliya and the other leading down to Dodawali.
How to reach Ubeshwar Ji Temple?
Take a left at the Malla-Talai Circle to the Rampura Chauraha, then a right at the Rampura Chauraha to the Ubeshwar Ji road. Drive for about 20-25 minutes on the twisty path, and you'll know you've arrived when you see the Ubeshwar Ji Temple.
About Ubeshwar Ji Temple
There are a number of picnic areas in and around Udaipur, with Ubeshwar Ji being one of the most popular. As the rain begins to fall and seasonal water begins to flow in Ubeshwar Ji, this location transforms into a wonderland. Because Udaipur is surrounded by the Aravali Mountains, the picturesque quality of natural locations skyrockets.
As a result, Ubeshwar Ji can be best described as a picnic spot with breathtaking natural vistas and spiritual tranquilly provided by the Ubeshwar Ji Temple. Ubeshwar Ji is one of several lovely sites outside of Udaipur that are ideal for a family outing or picnic. This secluded location is flanked by the Aravali Mountains' sprawling verdant valleys and seasonal rivers.
Ubeshwar Mahadev Temple is a prominent Lord Shiva temple in the city of Udaipur in the Indian state of Rajasthan. This temple is situated on a green hill in Udaipur's Ubeshwar neighbourhood. It is a well-known Lord Shiva temple. A sacred pond (Gangu Kund) for ritual bathing is located on the property.
Main Tourist Attraction Near Ubeshwar Ji Temple
Tourist Attractions Peepliya Ji – Near Ubeshwar Ji Follow the road straight to Dodavali Village, after 3 kilometres, the road will split into two, follow the left route straight to the destination.
If you're looking for an exciting adventure, turn right towards Dodavali Village (the road does not have any special picnic spots).
Things to Keep in Mind While Visiting
You should bring food or snacks with you because, except from tea booths, there are no reputable restaurants or shops that serve food.
The road to Ubeshwar contains numerous severe curves and hills, so check your vehicle's brakes before leaving home, and if you have altophobia (fear of heights), reconsider doing this trip.
Because the nearest petrol station is 20 kilometres away, make sure your tank is full and your tyres are properly inflated.
Location of Ubeshwar Ji Temple