The lake's main source of water is the river Ahar, a tributary of the river Berach that flows through Udaipur City and joins the Udai Sagar lake near Village Sukha Naka. Aside from that, the lake is supplied with water by a number of small seasonal rivers and streams that flow from the surrounding hills. The lake is surrounded by the Aravalli ranges' hills.
Udai Sagar Lake, Architecture
when is filled to its gross capacity of 31.15 million cubic metres, this lake has a water spread area of 5.20 square kilometres and a free catchment area of 19684 hectares. The lake's length and width are 4.2 km and 2.75 km, respectively, with a maximum depth of 9 metres at the dam site.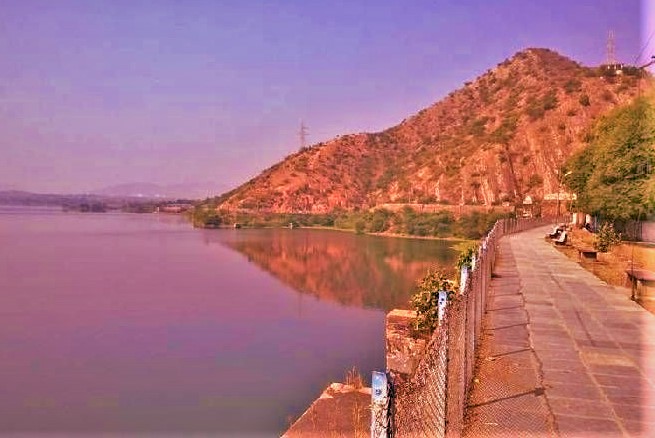 Because of continuous sedimentation over the last 400 years, the bottom of this shallow lake is silty. A large portion of its water is used for irrigation and M/s Hindustan Zinc Ltd's industrial needs.
Udai Sagar Lake's History
Udai Sagar Lake is another eye-catching lake among the five lakes of Udaipur. It is located approximately 13 kilometres east of Udaipur. Maharana Udai Singh began the construction of this lake in 1559 and finished it in 1565. Udai Sagar Lake is 4 kilometres long, 2.5 kilometres wide, and 9 metres deep at its deepest point.
To ensure an adequate supply of water in his kingdom, Maharana Udai Singh built this dam on the Berach River. The dam at Udaisagar Lake drains approximately 479 square kilometres of the country and covers an area of 10.5 square kilometres. It has a 23.4 million cubic metre storage capacity. One channel connecting to the Berach River has been built to manage the overflowing lake during the rainy season.
On the banks of Udai Sagar Lake in 1573, Maharana Pratap Singh was invited by Kunwar Man Singh to discuss the surrender terms and conditions of Akbar (Mughal Emperor). Pratap Singh declined the invitation and even insulted Man Singh. and later in 1576, this incident resulted in the Battle of Haldighati.