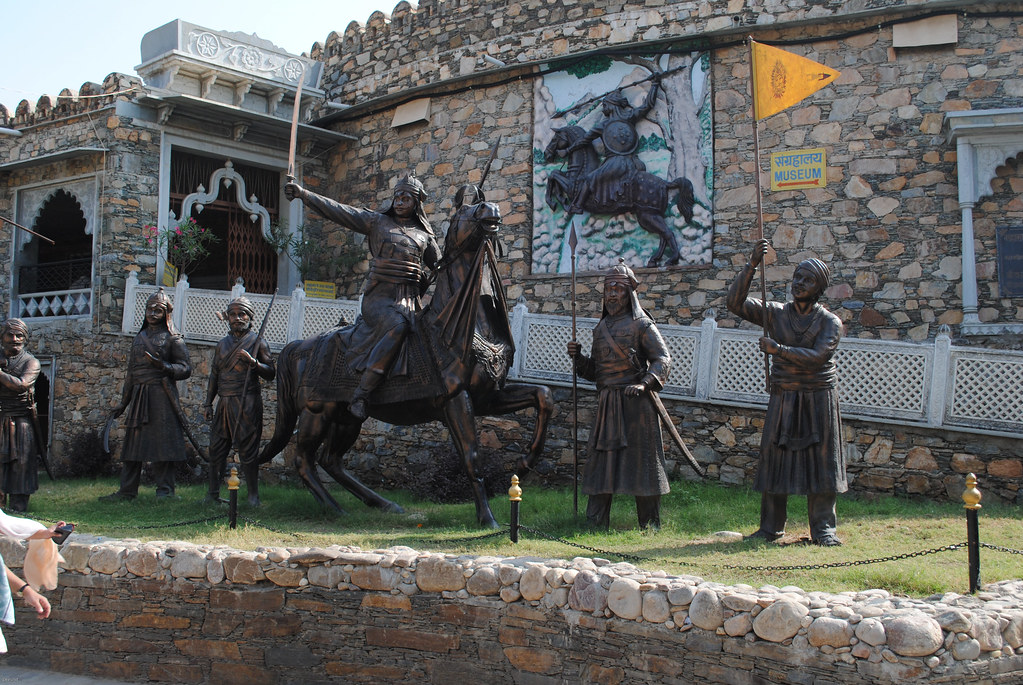 Note: Some Additional Information that you might need before going to Haldighati Museum.
Timings for Haldighati Museum:
| S.No. | Timings | Day |
| --- | --- | --- |
| 1. | 7:00 a.m. – 7:00 p.m. | Everyday |
Entry Ticket at Haldighati Museum:
| S.No. | Particulars | Price |
| --- | --- | --- |
| 1. | Children | Rs. 10 |
| 2. | Adult | Rs. 30 |
| 3. | Foreigner | Rs. 50 |
| 4. | Camera | Rs. 50 |
Haldighati is a mountain pass between Rajsamand and Pali districts in Rajasthan, located between Khamnore and Bagicha hamlet in the Aravalli Range. The mountain pass is about 40 kilometers away from Udaipur. The name 'Haldighati' comes from the area's turmeric-colored yellow soil.
There is no better place in Rajasthan to learn about Maharana Pratap's history than Haldighati. The town appears magical due to its dark yellow soil, which still reminds visitors of the untold story of the ruler of Mewar, who fought one of the fiercest wars against the Mughals during medieval times. Haldighati is a location in Rajasthan's Aravalli mountain range that connects the districts of Rajsamand and Pali. It is about 40 kilometers from Udaipur, the City of Lakes. The burial of Chetak, Maharana Pratap's dedicated horse that survived the deadly battle at the cost of his life to spare his master from death, is located about a kilometer from the Haldighati pass. Chetak's grave marker is ringed by well-kept gardens.
Top things to do in Haldighati
'Roses' as many as you want
Large-scale rose farming is popular in Haldighati. Where previously blood spilled into the dirt, turmeric-hued soil now grows among fragrant light pink flowers. Throughout the city, colorful signs advertise a variety of rose-based items, including rose water, gulkand, sharbat, rose attar, and so on. The finest variety is the Chaitri rose, which grows in the Hindu month of 'Chaitra' in April blooms extensively in the area surrounding Badshahi Bagh.
Take a trip to the museum
In Haldighati, there is a unique museum that asks a small price yet provides far more information about Maharana Pratap than one could expect. The museum has a large collection of artifacts linked to Maharana Pratap's life and times. Weapons, coins, and other vintage items are also on display at the museum. A cave-like building has been created in the museum, where visitors can watch a short film about Maharana Pratap's life. In addition, the museum administrators have beautifully depicted the history of Chetak, the brave horse of Maharana Pratap.
Go for shopping
Haldighati, like most of Rajasthan's tourist spots, does not disappoint when it comes to souvenirs. So go ahead and incorporate a trip to the local markets to buy traditional Rajasthani clothing, colorful turbans used by Mewar men, and local handicrafts, among other things. Near the museum is a gift shop that is worth visiting.
You should definitely have Sugarcane Juice
You might be shocked to learn that the sugarcane juice is available in Haldighati and is extracted by a bull, rather than a contemporary machine. Bulls were used to churn a wooden mill to squeeze the juice out of sugarcane back in the days when there was no electricity and this method is still used in Haldighati so give it a try.
Take a boat ride on the lake
A town with a small lake is located behind the museum. Paddleboat rides on the lake are popular among tourists, and it is a fun activity for families with children who want to spend some time relaxing.
History of Haldighati
The mountain pass holds historical significance. The Battle of Haldighati, fought in 1576 between the Kingdom of Mewar and the Mughal Army led by king Mansingh, took place here. The armed forces of Mewar were led by Maharana Pratap against the Mughals, who were led by Mughal emperor Akbar's general Mann Singh I of Amer.
Memorial at Haldighnati
Chetak, Maharana Pratap's horse, proved critical at the Battle of Haldighati. In this battle, Chetak became mortally wounded and died on June 21, 1576. On the site where Chetak died, Maharana Pratap built a tiny monument. At Haldighati, the cenotaph nevertheless stands.
The Maharana Pratap National Memorial became first commissioned through the Indian authorities in 1997 and became devoted at the end of June 2009.