Gangaur Ghat also known as Gangori Ghat is one of the most fascinating ghats in Udaipur located at the shore of Lake Pichola near the Jagdish Chowk area which attracts tourists through its beauty and calmness.
A ghat is a location along the shores of a lake or river where locals bathe and wash their clothes. Ghats are also used by locals to celebrate Hindu festivals in India. Gangaur Ghat is without a doubt one of the most scenic and beautiful places in Udaipur. It was originally named after Udaipur's most popular local festival, Gangaur. It is just a few minutes drive from any part of the city and is located in the heart of the city by the side of Lake Pichola. Although getting to the ghat on a four wheeler can be difficult at times.
It's even more amazing in the evening, when all the streets and houses are lit up. Another ghat known as Ambrai Ghat is located on the opposite end of the lake.
Gangaur is one of the foremost important local festivals in Rajasthan.
The traditional Gangaur processions begin at the City Palace and various other locations and lead through different parts of the city. The procession is led by old palanquins and carts, and when the processions are complete, the idols of Gan and Gauri are brought to this ghat, and here they are immersed in Lake Pichola.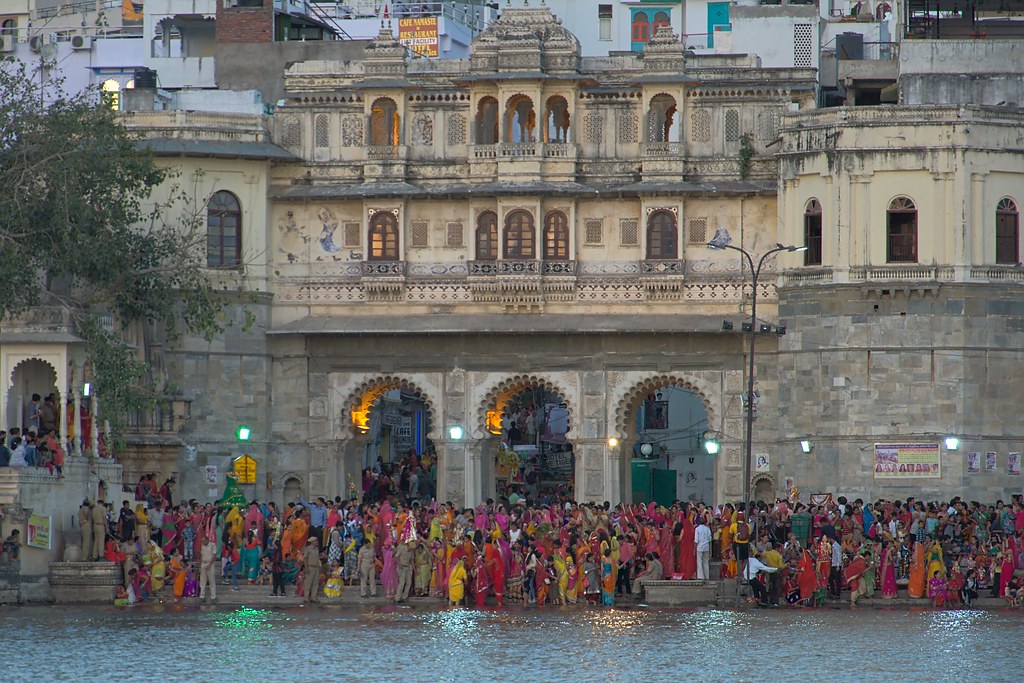 The JalJhulni Gyaras or JalJhulni Ekadashi are a popular event around Gangaur Ghat. On each day of the waxing moon (Shukla Paksha) and the waning moon (Krishna Paksha), different processions begin in different parts of the city and end at Gangaur Ghat, it is the place where people swing the idols of Lord Krishna in the form of Child (Baal Gopal) on Lake Pichola. These processions are called Ram Revdies.