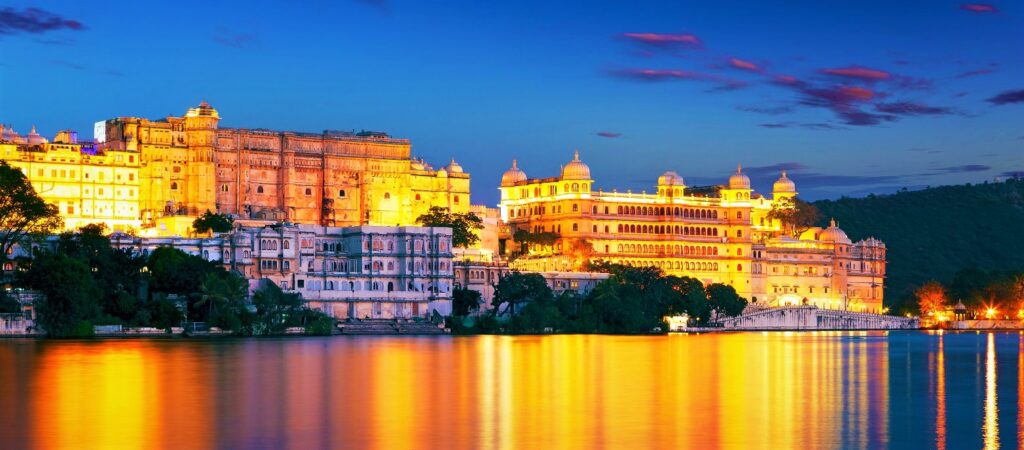 The City Palace, Udaipur is the largest palace complex in the state and one of the architectural wonders of Rajasthan. City Palace, Udaipur's most popular tourist attraction, stands majestically on the eastern bank of Lake Pichola. City Palace, which is surrounded by the Aravali mountain range, is worth admiring for its natural settings, which provide a breathtaking view of the surroundings.
Visiting the huge and magnificent City Palace of Udaipur is the most popular place in Udaipur and should be one of the top on your list of things to do in Udaipur. The city palace was built over 400 years ago from 1553.
Note: Here are some tips and information that you would like to have before you visit City Palace, Udaipur.
Timings of City Palace, Udaipur
| S.No. | Timings | Day |
| --- | --- | --- |
| 1. | 9:30 a.m. to 5:30 p.m. | Everyday |
Entry Ticket for City Palace, Udaipur
| S.No. | Particulars | Price |
| --- | --- | --- |
| 1. | Children (below 5 years) | Free |
| 2. | Child (5-18 years) | Rs. 100 |
| 3. | Adult (above 18 years) | Rs. 300 |
| 4. | Students | Rs. 100 |
Audio Guide for adults: Rs. 200.
Pricing for borrowing camera inside City Palace, Udaipur
| S.No. | Particulars | Price |
| --- | --- | --- |
| 1. | Still Camera | Rs. 200 |
| 2. | Video Camera | Rs. 500 |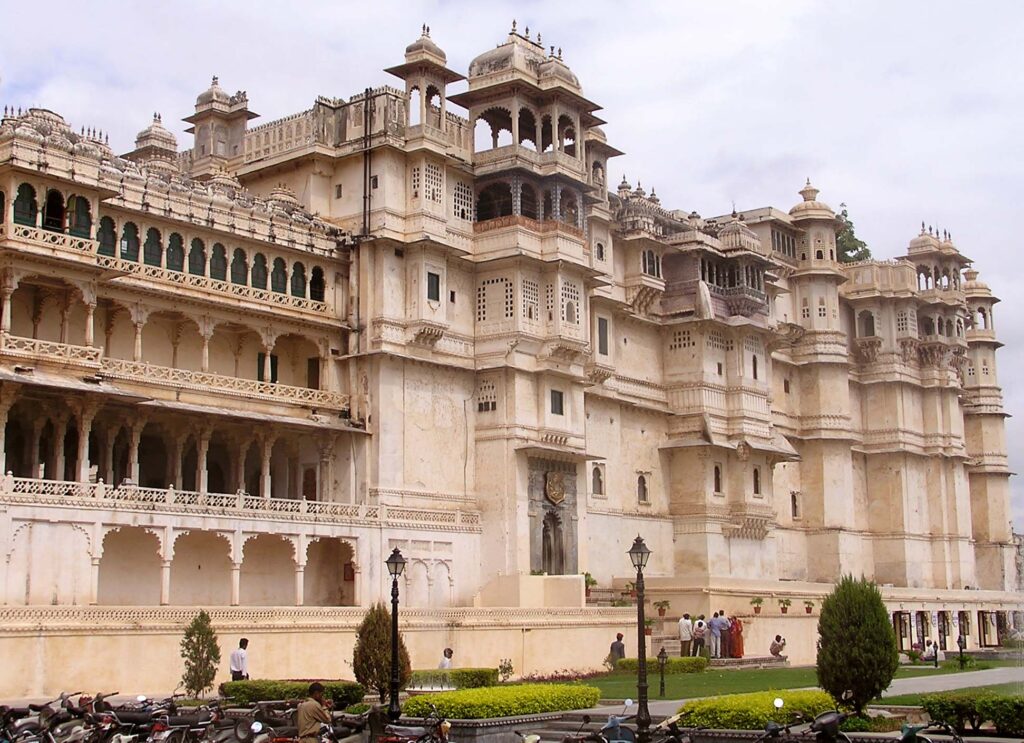 The complex is considered the largest in Rajasthan and is now open to visitors in Udaipur. Not only it is decorated to the highest standard, but it also has a museum where you can learn more about the palace and the culture and, due to its hilltop location, it has an incredible panoramic view of the White City of Rajasthan.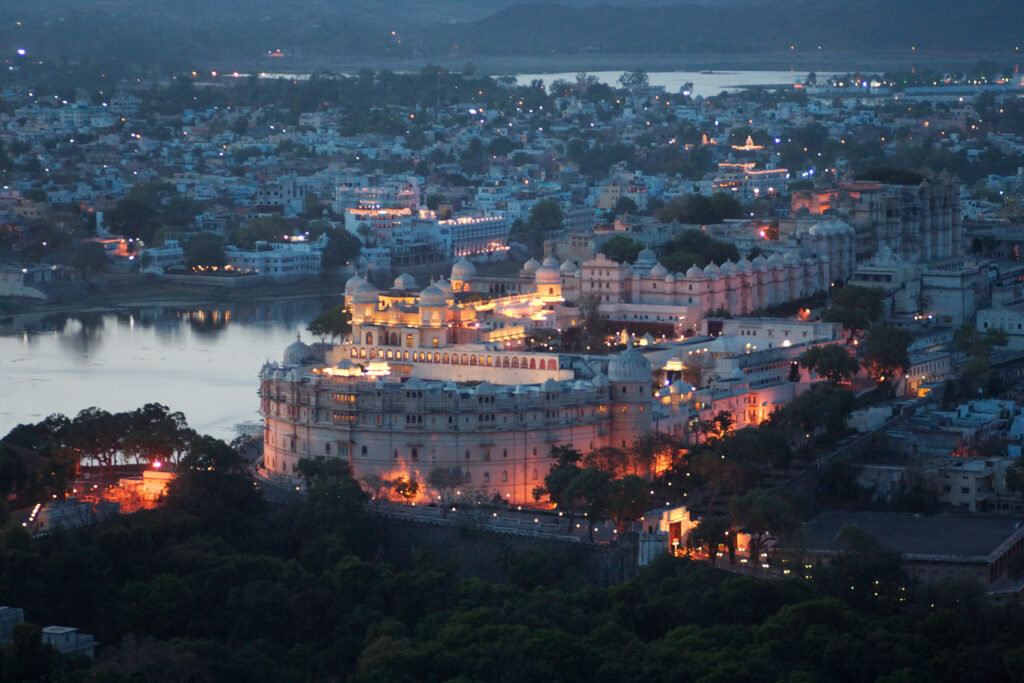 Entry tickets and Coupons at City Palace, Udaipur
S.No.
Particulars
Price
1.
Vintage & Classic Car Collection visit (Child) (8-12 years)
Rs. 150
2.
Vintage & Classic Car Collection visit (Adult)
Rs. 250
3.
Lunch/Dinner Coupon
(Veg. Thali at Garden Hotel Restaurant) (Child) (8-12 years)
Rs. 150
4.
Lunch/Dinner Coupon
(Veg. Thali at Garden Hotel Restaurant) (Adult)
Rs. 200
The Mewar Sound & Light Show (Yash ki Darohar) (Hindi)
(May to August: 8:30 pm to 9:30 pm)
| S.No. | Particulars | Price |
| --- | --- | --- |
| 1. | Hathnal Ki Chandani (Child) (8-12 years) | Rs. 200 |
| 2. | Hathnal Ki Chandani (Adult) | Rs. 300 |
| 3. | Manak Chowk (Child) (8-12 years) | Rs. 150 |
| 4. | Manak Chow (Adult) | Rs. 200 |
The Mewar Sound & Light Show ( English)
(April: 7:30 pm to 8:30 pm) (Sept to March: 7:00 pm to 8:00 pm)
| S.No. | Particulars | Price |
| --- | --- | --- |
| 1. | Hathnal Ki Chandani (Child) (8 -12 years) | Rs. 250 |
| 2. | Hathnal Ki Chandani (Adult) | Rs. 550 |
| 3. | Manak Chowk (Child) (8 -12 years) | Rs. 200 |
| 4. | Manak Chow (Adult) | Rs. 350 |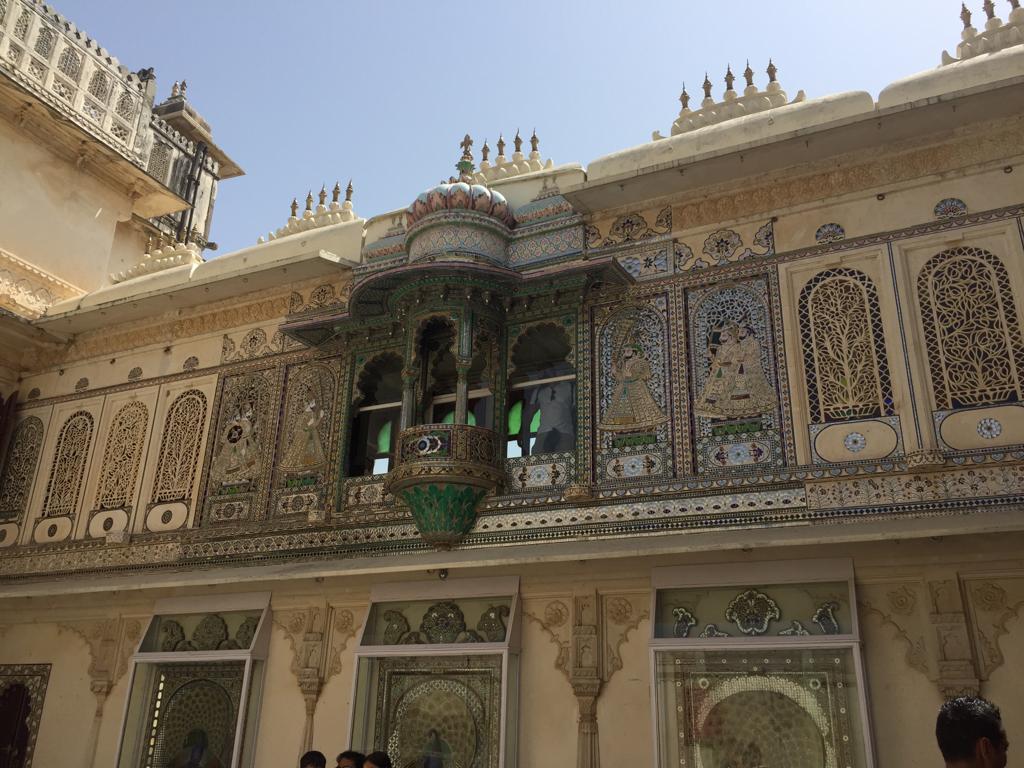 City Palace Udaipur's History
The history of City Palace is linked to the kingdom of Mewar, which has multiple capital moves throughout its many monarch's reigns. Guhil, the first Maharana of Mewar, founded the capital in Nagda in 568 AD. Under the leadership of Sisodias, it was later relocated to Chittor in the eighth century.
In 1537, Maharana Udai Singh II took control of the Mewar Kingdom. The Chittor fort was in danger of being lost due to the Mughal war. Therefore, Maharana Udai Singh II choose a new capital for his kingdom in 1567, near Lake Pichola, surrounded by forests, lakes, and the high mountains of Aravali.
The construction of City Palace began during the reign of Maharana Udai Singh II and was later expanded by his successors over a 400-year period. This palace has historical significance because it served as the Maharana's administrative complex.
Architecture of City Palace, Udaipur
This City Palace is made of granite and marble, which perfectly blends the architectural styles of the middle ages, which is admirable. The complex's various palaces stand magnificently behind a 100-foot-high and 801-foot-long facade built exquisitely on the ridge of Lake Pichola.
The City Palace complex, located at an elevation of 1,962 feet, was built over a long period of time by 22 generations of Sisodia Rajputs beginning in 1559. Udai Singh II and several other Maharanas have made significant contributions to the construction of this impressive complex.
The complex is made up of 11 small palaces and other structures that are all built in the same style. The interior of the palace complex is as impressive as the exterior. The complex's balconies, towers, and cupolas are adorned with intricate mirror-work, marble-work, murals, wall paintings, silver-work, inlay-work, and colored glass.
The upper terraces of the complex provide a breathtaking view of the lake and the city of Udaipur. The complex's palaces are linked by chowks, and the palace's corridors are designed in a zigzag pattern to avoid surprise attacks from enemies.
The City Palace complex is rich in structures that can be accessed via the main Tripolia (triple) gate, which serves as the complex's entry point.
Other structures in the complex include the Suraj Gokhda (public address facade), Mor-chowk (Peacock courtyard), Dilkhush Mahal (heart's delight), Surya Chopar, Sheesh Mahal (Palace of glass and mirrors), Moti Mahal (Palace of Pearls), Krishna Vilas, Shambhu Niwas, Bhim Vilas, Amal Vilas (with raised garden), Badi Mahal (Grand Palace), Fateh Prakash Palace and Shiva Niwas.
The complex also includes a post office, a bank, and a travel agency. Tourists can visit a number of craft shops and an Indian boutique supported by the World Wildlife Fund (WWF) while visiting the palace complex.
The entire Palace complex is owned by the Mewar royal family, and the structures within it are maintained by various trusts. The Fateh Prakash Palace and Shiva Niwas Palace have been converted into heritage hotels.
The City Palace, Udaipur complex's structure
The City Palace complex contains a number of structures with magnificent architecture, making it a most famous tourist destination for history buffs.
The complex's structures are as follows:
1. Entrances
Gateways, also known as Pols, are the entrances to the palace complex. The complex has three major entrances. The main entrance to the complex is the 'Badi Pol' (Great Gate), which leads to the first courtyard. After crossing the 'Badi Pol,' one comes across a triple-arched gate known as the 'Tripolia,' which serves as the complex's northern entrance.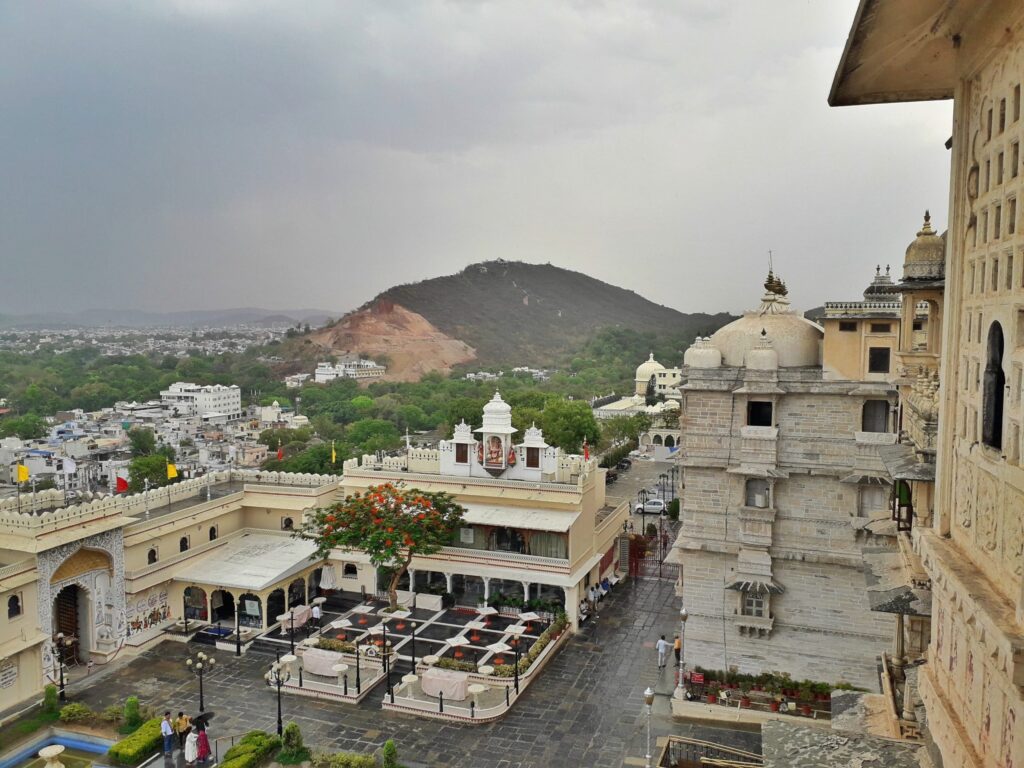 The two gates, 'Badi Pol' and 'Tripolia,' are beautifully aligned with eight marble arches or Toranas. Legend has it that the Maharanas used to weigh themselves against gold and silver here, which was then distributed among the locals. After passing through the 'Tripolia' gate, you'll come across an arena near the Toran Pol where elephant fights used to take place. These elephants were later selected for war campaigns based on their prowess. Across from Tripolia gate is another gate known as the 'Elephant Gate' or the 'Hathi Pol'.
2. Amar Vilas
Located at the highest point of the City Palace, Amar Vilas is an elevated garden that serves as the topmost court within the complex. Built-in Mughal style architecture, Amar Vilas is the entry point to Badi Mahal, another alluring structure within the complex.
Adorned with beautiful hanging gardens, fountains, towers, and terraces, Amar Vilas served as a leisure home for the Maharanas.
3. The Badi Mahal
Badi Mahal, also known as the Great Palace/Garden Palace, is the main palace in the complex, which sits majestically on an 89-foot-high rock formation. Badi Mahal has a swimming pool that was previously used for Holi celebrations, as well as a hall that displays miniature paintings from the 18th and 19th centuries.
Other attractions include the beautiful wall paintings of Jag Mandir, Lord Vishnu of Jagdish temple, and elephant fight scenes.
4. Bhim Vilas
Bhim Vilas Another place for art lovers to visit is Bhim Vilas. Bhim Vilas is sure to enchant everyone with its skilled artwork, which includes miniature paintings of Lord Krishna and Radha illustrating their real-life stories.
5. Chini Chitrashala
Another interesting place to visit is the Chini Chitrashala, which has a large collection of Chinese and Dutch ornamental tiles.
6. Choti Chitrashala
The 'Residence of Little Pictures,' as the name suggests, was built in the early nineteenth century and houses a small gallery of peacock paintings.
7. Dilkush Mahal
Dilkush Mahal, which means "Palace of Joy," was built in 1620. The complex's beautiful murals and wall paintings are worth admiring for their artistic abilities.
8. Durbar Hall
Durbar Hall was a newer addition to the palace complex that served as a venue for official functions. The hall, which was built in 1909 during the reign of Maharana Fateh Singh, is adorned with large chandeliers that add to the grandeur of this place.
Durbar hall is a part of Fateh Prakash Palace that houses weapons and portraits of Maharanas. Durbar Hall was previously known as Minto Hall, after the Viceroy of India, Lord Minto, who laid the foundation stone for it.
9. Fateh Prakash Palace
Fateh Prakash Palace, now a luxury hotel, has an interesting collection of crystal chairs, dressing tables, sofas, tables, chairs, beds, crockery, table fountains, and a jewel-studded carpet. In the year 1877, Maharana Sajjan Singh ordered these items. However, he died before the package arrived, and it remained unopened for nearly 110 years.
10. Krishna Vilas
Krishna Vilas, another captivating chamber for art lovers, has an admirable collection of miniature paintings depicting various events during Maharanas reign, such as royal procession, festivals, and games held during their reign.
11. Laxmi Vilas Chowk
Laxmi Vilas Chowk, an art gallery displaying a one-of-a-kind collection of Mewar paintings, is worth admiring for its rare collections.
12. Manak Mahal
Manak Mahal, which translates to "Ruby Palace," is one of the most beautiful structures in City Palace. Manak Mahal was once an enclosure for the formal audience of the Mewar kingdom, and it is led from the Manak Chowk.
One of the most enticing sights here is a raised alcove with mirror glass work inside. The Sun god, worshipped by the Maharanas, is represented by a Sun face emblem on the facade of Manak Chowk.
13. Mor Chowk
Mor Chowk or Peacock Square, a part of the palace's inner courts, was built during the reign of Maharana Sajjan Singh, about 200 years after the palace was first built. Three magnificent peacocks, representing three seasons: summer, winter, and rainy season, are decorated on the walls of Mor Chowk.
The three peacocks in Mor Chowk are crafted with around 5000 glass pieces that glow brightly in blue, green, and gold colors and are decorated with glass and mirror mosaics. The picture of Lord Krishna in the apartment in front of Chowk is beautiful. The upper level has a balcony surrounded by colored glass inserts, and an adjacent chamber known as Kanch-ki-Burj has mirror mosaics on the walls. Badi Charur Chowk is a small court inside the chowk that is used for private purposes.
14. Rang Bhavan
The temples of Lord Krishna, Meera Bai, and Lord Shiva are now housed in what was once a royal treasure vault.
15. Sheesh Mahal
The Palace of Mirrors and Glasses is another lovely structure in the complex built by Maharana Pratap for his wife Maharani Ajabde.
16. Museum
In 1974, a portion of the City Palace and Zenana Mahal, or the Ladies Chamber, were converted into a museum, which is now open to the public.
In popular culture
The City Palace, Udaipur has appeared in a number of films, including the James Bond Octopussy and the Bollywood film Goliyon Ki Raasleela Ram-Leela.
The Annual Maharana Mewar Foundation Awards were held at Manak Chowk.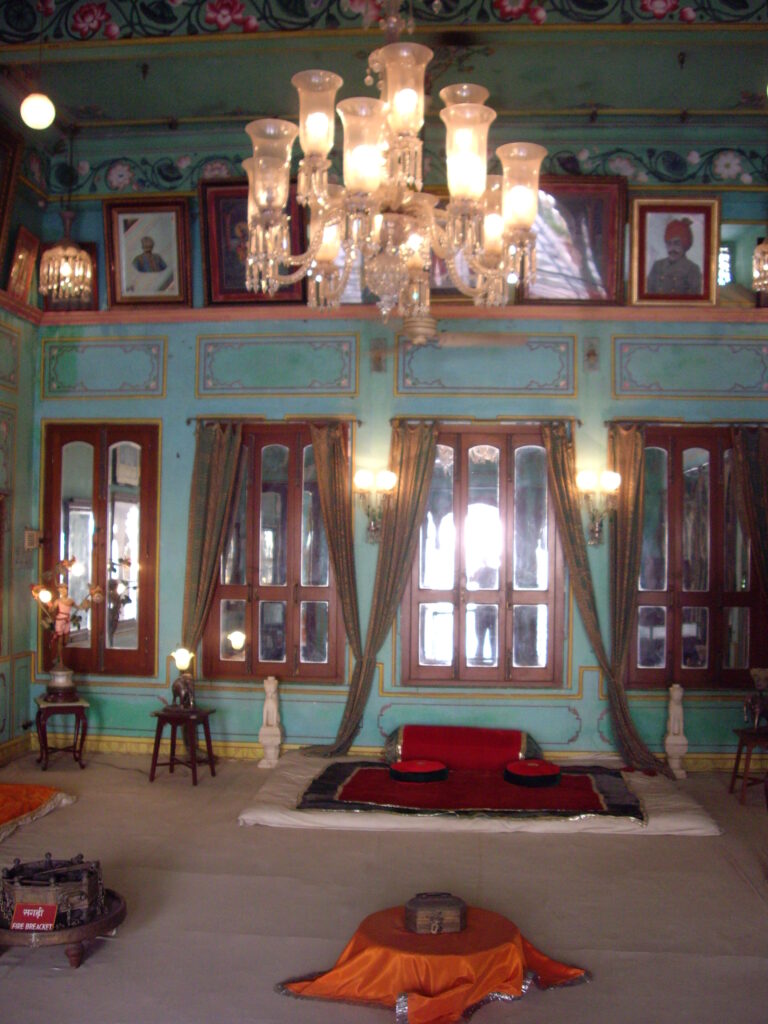 When is the best time to visit City Palace, Udaipur?
The winter season, from October to March, is considered the best time to visit City Palace because the weather is mild and cool.
In the summer season, The best to visit the City Palace is early in the morning or late in the evening to avoid crowds and the scorching heat.
Things to know before visiting City Palace, Udaipur
It is allowed to take pictures in the designated area. The photography fee is INR 200, and the videography fee is INR 500.
It is recommended that you bring water, sunblock, and sunglasses with you.
Exercise caution when approaching the museum's relics.
It can become extremely crowded during peak season and on long weekends.
How to reach City Palace, Udaipur
From the city(or anywhere in Udaipur), take a local bus, tonga, auto-rickshaw, or taxi to The City Palace, Udaipur.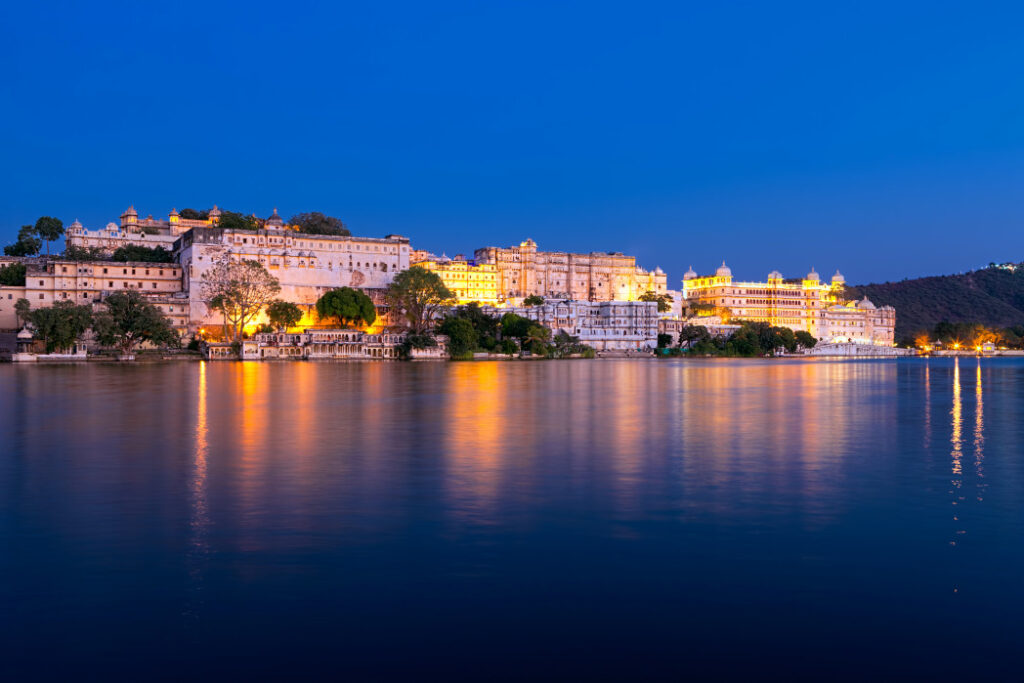 Guides are available at the City Palace, Udaipur
There are guides available in different languages at the City Palace, Udaipur. You can hire a licensed guide. The cost of the guides is determined by the number of people in the group. and also an audio guide is available at the City Palace, Udaipur.
Frequently Ask Questions
Is City Palace Udaipur worth it?
The Udaipur City Palace one of the top places to visit  and a famous landmark in Udaipur. The royal complex is made up of multiple of gardens, courtyards, and structures, and is one of Udaipur's many architectural wonders. As passionate photographers, we thought this location to be ideal for photographing.
Why is City Palace of Udaipur famous?
Over the next 400 years, Maharana Udai Singh II and his succeeding Maharanas built the City Palace in parallel with the start of development of Udaipur. The Maharanas lived and administered their kingdom from this palace complex, making it a significant historical site.
What is the entry fee for City Palace Udaipur?
The entry fee to the City Palace Museum is Rs. 300 for Adults (Above 18 yrs age) and Rs. 100 for Children (5 to 18 yrs age). There is no entry fee for children below 5 years of age.
How to Reach City Palace?
The nearest airport is Dabok in Udaipur, from there, private vehicles and cabs may easily transport you to the City Palace Udaipur. If you prefer to travel by train, you can arrive at Udaipur railway station, which is well connected to all of the country's major cities via regular trains.
Is Udaipur better than Mount Abu?
Udaipur is a city rich with museums, palaces, lakes, forts, and other historic structures. Mount Abu, on the other hand, is a lovely hill station nestled in the Aravali mountains. Udaipur is renowned as the "City of Lakes" because of its numerous lakes.
How many rooms are there in Udaipur City Palace?
There are 65 luxury rooms and 18 grand suites in this heritage hotel in Udaipur. Every accommodation has a beautiful view of the nearby City Palace, Aravalli Hills, Machla Magra Hills, and Jag Mandir thanks to its placement on an island in the middle of a lake.
Who made the Udaipur City Palace?
Udaipur is also known for its famous miniature paintings and performing arts. The Pichola Lake is dominated by the City Palace. Maharana Uday Singh II began building the palace, but succeeding Maharanas added more palaces and structures to the complex while maintaining the design constant.
Location of City Palace, Udaipur