Ambrai Ghat also known as Manji Raj ka Ghat is the main ghat on the shore of Lake Pichola in Udaipur. Ambrai Ghat is located opposite the Gangaur Ghat which is near the Jagdish Chowk area. The Ghat is been maintained well by the Nagar Parishad of Udaipur. They have installed a marble fence on the edges of the ghat and also wide seats in the rest area of the ghat.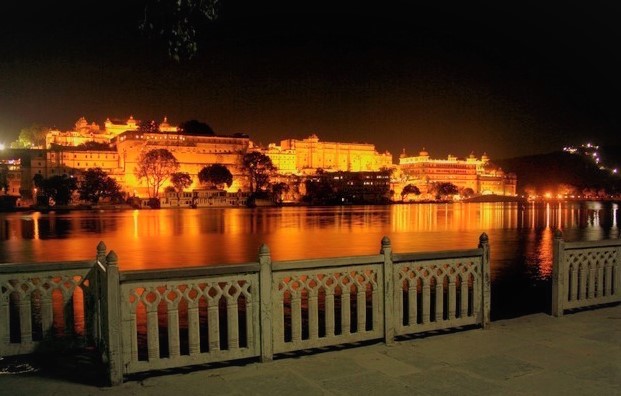 Ambrai Ghat is one of the best Ghats in Udaipur, where you can experience the calm and beauty of the lake. The cool wind blows through your body, and you feel very calm. Ambrai Ghat is also called Hanuman Ghat because there is a small temple of the Hindu God Shri Hanuman and Usually this place is full of locals and other tourists.
In the morning, you can relax here by doing yoga with the elderly in Udaipur, swimming in the lake and doing various other activities. Ambrai Ghat is close to the beautiful Lake Pichola and is a frequent destination for birds and pigeons. In addition to these, you can also enjoy the spectacular view of the golden sunset in the waters of Lake Pichola. You can also view some beautiful monuments located on different islands in the lake, including Lake Palace, Shiv Nivas, Jag Mandir, etc.
Nagar Parishad Udaipur has been constantly working to expand the river altar and maintain the marble fence installation and create enough space for the visitors. Visiting this peaceful Ghat is an enlightening and wonderful experience. The Ghat is located in a narrow street in the "Old Town" of Udaipur that runs through the area. Nagar Parishad Udaipur provides many convenient facilities for the convenience and pleasure of tourists.
This place is very popular among tourists and it is crowded all day long. It attracts all types of tourists, from young to old. This place attracts the attention of all lovers because it is the ideal place to spend a pleasant evening with your significant other. You can also plan your pre-nuptial meeting in this charming place. Due to the good wind speed in this beautiful piece of Ghat, you can also see some beautiful kites flying over the Ghat.