Ambrai Ghat, also known as Manjhi Ghat Udaipur, is one of Udaipur's most beautiful and popular ghats. This location is bustling with both locals and visitors. Early in the morning, you can discover quiet and comfort among Udaipur's senior folks who practise Yoga, bathe in lakes, and engage in a variety of other pastimes. From the ghat, you can admire the city lights and get a close look at heritage hotels such as Lake Palace Udaipur, Jag Mandir, Shiv Niwas, and others.
entry fees of ambrai ghat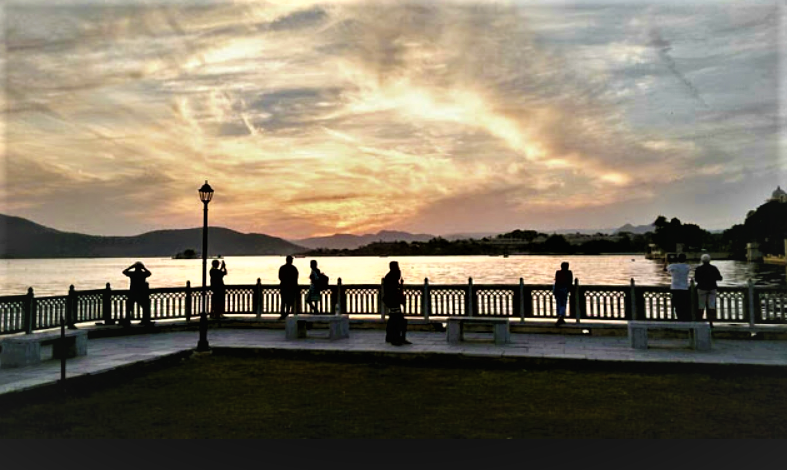 From 5:30 a.m. until 6:30 p.m., there are six aartis performed in Ambrai Ghat. Ambrai Ghat is open from 5:00 a.m. until 7:00 p.m. The Nagar Parishad of Udaipur has done an excellent job of managing the Ambrai Ghat. The ghat is surrounded by marble walls, and there are spacious benches for sitting on the ghat.
Ambrai Ghat, also known as Manjhi Ghat, is the most important ghat in Udaipur, located near the waterfront of Lake Pichola. It is located across from the Gangaur Ghat, near the Jagdish Chowk area. Ambrai Ghat is known for its lakeside location, which is surrounded by a number of well-known hotels, notably the 'Ambrai restaurant.' It's also known for its beautiful views of Udaipur's City Palace and the surrounding lakes.
All about Ambrai Ghat
This Ghat, also known as HANUMAN GHAT, can be seen near Pichola Lake. This Ghat, which was previously known as Manjhi Ghat, has undoubtedly cemented a permanent place in the hearts of the youth. Ambrai Ghat is a portal to a delightful adventure that takes you through the historic streets of Udaipur's Old City.
In the attractiveness of Udaipur a critical position is played by the astonishing Lakes that are stretched on the land of our Mewar and serve generating picturesque beauty that shall be fascinated by each. The Udaipurites invest their adoration on places that provide eternal nirvana, which is why Ambrai is one of the most popular destinations for Udaipurites.
Ambrai Ghat Udaipur Images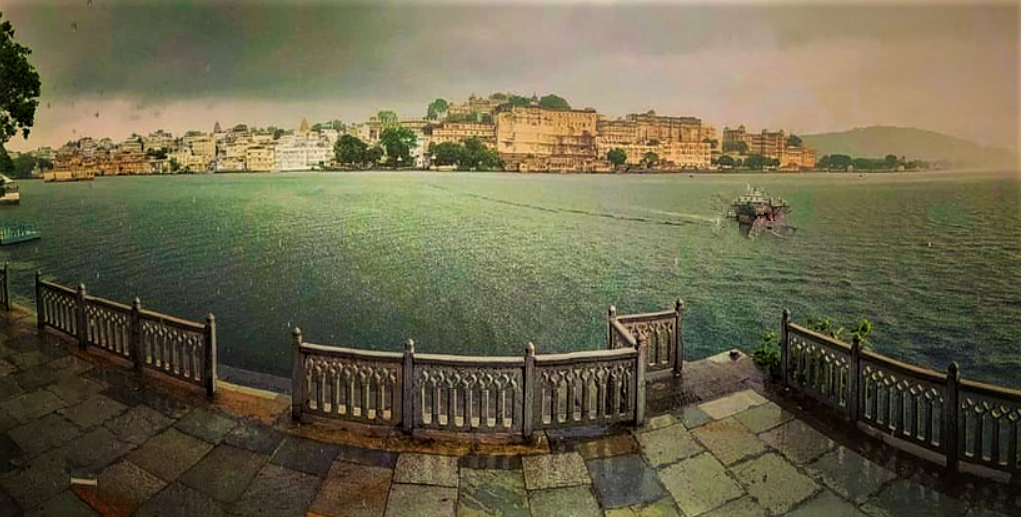 Amazing facts about Ambrai Ghat
The Pichola water splashes on the Ambrai Ghat in time with the dancing wind, accompanied by joyful chattering of birds and pigeons.
The golden sun sets over Pichola Lake, creating a stunning scene.
Ghat provides a detailed picture of heritage hotels such as Udaipur's Lake Palace, Jag Mandir, and Shiv Niwas, among others.
The Ambrai Ghat has been properly maintained by the Udaipur Nagar Parishad, with marble walls and large benches for relaxing. The ghat is packed with locals who enjoy swimming as the sun rises over Pichola Lake's waters.
They jump into the Pichola Lake from the Ghat and bathe in its pure water. During the day, the area is usually less crowded, but as the sun sets, the area becomes increasingly crowded with teenagers. It is also a popular hangout spot for couples, as well as a lovely location for various picture shoots, including pre-wedding photo shoots.
With candlelight, white-linen tables beneath gigantic trees, this incredibly romantic restaurant is set at lake-shore level, facing over the water to the floodlit City Palace in one direction and Jagniwas in the other. With fantastic tandoor and curries, as well as a bar to complement the dining, the service and cuisine live up to its fantastic location.
Ambrai Ghat is one of the nicest Ghats in Udaipur, where you will only find peace and admire the lake's beauty. And where the cool, refreshing breeze will caress your skin, making you feel quite tranquil and at ease after a long day of stress. Ambrai Ghat is also known as Hanuman Ghat because it houses a modest shrine dedicated to the Hindu god Shree Hanuman.
This location is usually busy with locals and visitors. Early in the morning, you can discover more calm here with Udaipur's senior residents practising Yoga, taking baths in lakes, and other activities.
Ambrai Ghat is located near the gorgeous Lake Pichola and is a popular stopping point for birds and pigeons that chirp happily. Aside from these lovely noises, everyone of us may enjoy a stunning view of the golden sun sinking over Lake Pichola's waters. From this ghat, one can see some of the stunning memorials, such as Lake Palace, Shiv Niwas, and Jag Mandir, which are located on different islands of the lake.
Udaipur's Nagar Parishad has worked tirelessly to develop and maintain this ghat, installing marble walls and providing wide seats for the rest of the tourists.Several locals come to this ghat to swim and relax on a relaxing afternoon. They take a deep dive into Lake Pichola's gorgeous waters, embracing the place's freshness.
Ambrai Ghat is a popular tourist destination in the City of Lakes. This ghat, formerly known as Manjhi Ghat, is one of Udaipur's most well-known landmarks. A visit to this tranquil ghat is both enlightening and beautiful. The ghat is situated in such a way that it passes through the narrow lanes of Udaipur's "Old City." The Nagar Parishad of Udaipur has offered numerous amenities for the guests' convenience and enjoyment.
The location is so well-known among tourists that it is busy all day. It attracts tourists of all ages, from children to the elderly. This site is renowned amongst all the lovers because it is the perfect place for enjoying a great evening with your soul mate. You can also schedule a pre-wedding shoot at this charming location. You can also observe some lovely kites flying over the ghat because of the good speed of wind which is present at this gorgeous ghat.
History of ambrai ghat
Ambrai Ghat is located near the beautiful Pichola Lake and is a popular stopping point for birds and pigeons, who arrive seldom and peep merrily. Despite these pleasant sounds, one can enjoy a captivating view of the magnificent sun setting on the waters of Lake Pichola.
From this ghat, one can also see some of the great sites that are located on various islands of the lake, such as Lake Palace, Shiv Niwas, Jag Mandir, and so on. The Nagar Parishad of Udaipur has made consistent efforts to build and maintain this ghat, including establishing marble bounds and providing wide seats for the remaining tourists and visitors.A few residents from the neighbourhood come to this ghat to swim and spend an energising evening. They take a deep dive into the enchanting waters of Lake Pichola and acknowledge the spot's cleanliness.
Timing of pooja/Aarti at ambrai ghat
Aarti
Timings
Morning Aarti (1st Aarti)
5.30 am
Morning Aarti (2nd Aarti)
8.15 am
Morning Aarti (3rd Aarti)
9.15 am
Morning Aarti (4th Aarti)
11.30 am
Afternoon Aarti
3.30 pm & 4.30 pm
Evening Aarti
5.00 pm & 6.30 pm
Note: The Aarti is most beautiful during sunrise and sunset.
Ambrai Ghat Entry Timings:
| | |
| --- | --- |
| Opened | All Days of the Week |
| Timing | 7:00 am to 7:00 pm |
Note: Timings May Vary on Special Days & On Festivals
hotel or restaurant near ambrai ghat
Hotel Mewar In Udaipur
This casual budget hotel is 3 km from Udaipur train station and 4 km from the 16th-century City Palace on the banks of Lake Pichola, and is convenient to enterprises.
The simple, airy rooms have flat-screen TVs and en suite bathrooms, some rooms have air conditioning.
A rooftop restaurant/bar is available. There is also a parking lot and an Internet cafe.
| | |
| --- | --- |
| Address: | 42, Residency Rd, Bhopalpura, Udaipur, Rajasthan 313001 |
| Phone: | 096808 84370 |
Hotel Pichola Haveli Udaipur
This inconspicuous hotel, which overlooks Lake Pichola in a bustling business zone, is a 15-minute walk from the 16th-century City Palace and 3 kilometres from Udaipur City train station.
The comfortable rooms with an exquisite vibe feature marble flooring, flat-screen TVs, sitting areas, and air conditioning. Minifridges and/or four-poster beds are available in some rooms.
Breakfast (surcharge) is provided in a light-filled restaurant with a rooftop patio with views of the lake. A small lobby lounge is also available.
| | |
| --- | --- |
| Address: | Gangaur Ghat Marg, in front of Bagore Ki Haveli Museum, Old City, Udaipur, Rajasthan 313001 |
| Phone: | 063780 02409 |
Hotel Sarovar Udaipur
This rustic hotel is located on the beaches of Lake Pichola and is within walking distance of the Udaipur City railway station. Jagdish Temple is an 8-minute walk away, while the massive 16th-century City Palace complex is a 13-minute walk away.
Free Wi-Fi and flat-screen TVs, as well as tea and coffeemaking amenities, are available in the relaxing rooms with ornate window arches. There are seating places in all of them, and some even have window seats. Lake and palace views are available in upgraded accommodations. Room service is offered 24 hours a day, 7 days a week.
Breakfast and parking are both complimentary. The lake is visible from a rooftop restaurant that serves foreign cuisine. A business centre and a function space are also available.
| | |
| --- | --- |
| Address: | Outside Chandpole, Hanuman Ghat, Pichola, Udaipur, Rajasthan 313001 |
| Phone: | 090161 30528 |
Hotel Jaiwana Haveli Udaipur
This elegant hotel overlooking Lake Pichola is a 7-minute walk from City Palace and 3 km from Udaipur City train station and is housed in a magnificent architecture with ornamental embellishments.
Flat-screen televisions are provided in the unassuming rooms. Some have views of the lake. Only stair access is available.
Breakfast is provided free of charge. There's a beautiful rooftop restaurant with a view of the lake and a terrace. Massages and cooking workshops are available.
| | |
| --- | --- |
| Address: | 14, Lal Ghat Road, Near Jagdish mandir, Old City, Udaipur, Rajasthan 313001 |
| Phone: | 098290 05859 |
Hotel The Tiger Udaipur
This casual hotel in a former heritage house overlooks Lake Pichola and is a 2-minute walk from Jagdish Temple, an opulent Hindu site of worship, and an 8-minute walk from City Palace, a large 16th-century structure.
The basic rooms provide free Wi-Fi, ceiling fans, and flat-screen TVs; some rooms also include air conditioning, decorative windows, and sitting areas. Lake views and tea and coffeemaking facilities are included in upgraded accommodations. There is room service available.
A casual vegetarian restaurant with a rooftop terrace and lake views is available. A gym and an airy lobby lounge with a pool table are among the other attractions. There is no elevator.
| | |
| --- | --- |
| Address: | Gangaur Ghat Marg, Old City, Pichola, Udaipur, Rajasthan 313001 |
| Phone: | 097848 16989 |
ghats in udaipur
Ghats are a set of steps that lead down to a body of water, usually a sacred river. They are the finest spot to be so close to water and feel the immense tranquilly that exists there. Ghats are also used as a place for people to bathe and wash away their past misdeeds. The Ghats of Udaipur, on the other hand, are known for their beauty rather than for these beliefs.
As everyone knows, Udaipur has been dubbed "The World's Most Beautiful City." "See Venice and die," it is also said, "but see Udaipur and live to see it again and again."
The Ghats play a critical role in making it possible and ensuring that it is reached at that time. There are primarily four Ghats that you must visit and spend sufficient time in, and you will notice a difference in yourself as a result of your stay. You could even call those locations "stress burst zones."
The people sitting around and on the Ghats' stairs, absorbing in the tranquillity from the calm river in front of their eyes, give off a captivating aroma. Even if it doesn't have much, but it does have the best, this place can be one of the greatest in Udaipur. Over here, there is peace and the ultimate sun set point.
History & Water Arrival
The three gates of Gangaur Ghat, also known as Tripoliya, were built in 1878 for the haveli known as 'Baghor Ki Haveli' under Maharana Shakti Singh. The lake Pichola is where the chilly water comes from. Only Lake Pichola is related with the Ghats.
laal ghat
Laal Ghat, an incredibly sacred location in Udaipur, sees a swarm of pilgrims all year. Pilgrims come from all over the world to take a sacred bath at LAL Ghat. A dip in the waters of LaaL Ghat, according to Hindu beliefs, ensures that your sins are forgiven and that you will be reincarnated as a human in your next life. Thousands of worshippers flock to the LAL Ghat for a plunge because of this belief.
This neighbourhood is surrounded by four and five star hotels that have been welcoming visitors for years. This location is ideal for travellers because it is accessible to both the train station and the bus terminal.
Traveling from Laal Ghat is convenient and easy because it is well connected to all of Udaipur's other tourist destinations.With their colourful embellishments, the markets have a pastoral beauty that amazes and entices visitors.
nav ghat
The First Lake-Facing Hostel in India. NAV GHAT, or the boat dockyard, is now marked by the scenic SHAHAR KOT, which is nestled in the former mangrove on the palace side of Lake Pichola, just near to the majestic palace complex of Udaipur. In Shahar Kot, the utter depth of tranquillity, the heightened sense of oneness, and the magnificence of the Palace, as well as Lake Pichola, combine in a unique blend of antique modernism.
Best Time to Visit ambrai ghat
The greatest and most optimal time to visit the ghat is during the lengthy winter months of November to February. The weather in Udaipur is often pleasant throughout these months, allowing visitors to enjoy the city's many attractions. Summers in Rajasthan are absurdly hot, thus visiting the ghat during the winter season is recommended.and if you want to see the legendary view of the city of palace you should go there at night,according to my opinion .
How to reach ambrai ghat
Airport: Nearest airport is Maharana Pratap Airport (also known as Udaipur Airport or Dabok Airport (IATA: UDR, ICAO: VAUD)) which is located 22 km (14 mi) east of Udaipur. One can easily reach Ambrai Ghat from the city by taking local Buses, Rickshaws, Tongas and Taxis.
If you want to know more about ambrai ghat visit this page Ambrai Ghat | Manji Raj ka Ghat | Udaipur
location of ambrai ghat
you may also like
Gangaur Ghat (Gangori Ghat)| Udaipur
List of Top 10 Universities in Udaipur | 2022 (Images, Ranking, Contact No & Location)