A mock town named 'Chokhi Dhani' is located around 20 kilometres from Jaipur main city and is a wonderful reflection of Rajasthani culture, food, traditions, and heritage. Rajasthani Culture is the direct translation of the name Chokhi Dhani.
Chokhi Dhani Jaipur Entry Fee
750 – 1200 per person for Adults
450 – 800 per person for Children
Chokhi Dhani Jaipur Timings
| Day | Timing |
| --- | --- |
| Monday | 5:00 pm – 11:00 pm |
| Tuesday | 5:00 pm – 11:00 pm |
| Wedesday | 5:00 pm – 11:00 pm |
| Thursday | 5:00 pm – 11:00 pm |
| Friday | 5:00 pm – 11:00 pm |
| Saturday | 5:00 pm – 11:00 pm |
| Sunday | 5:00 pm – 11:00 pm |
Chokhi Dhani Jaipur Phone Number
Phone Number: 0141 5165000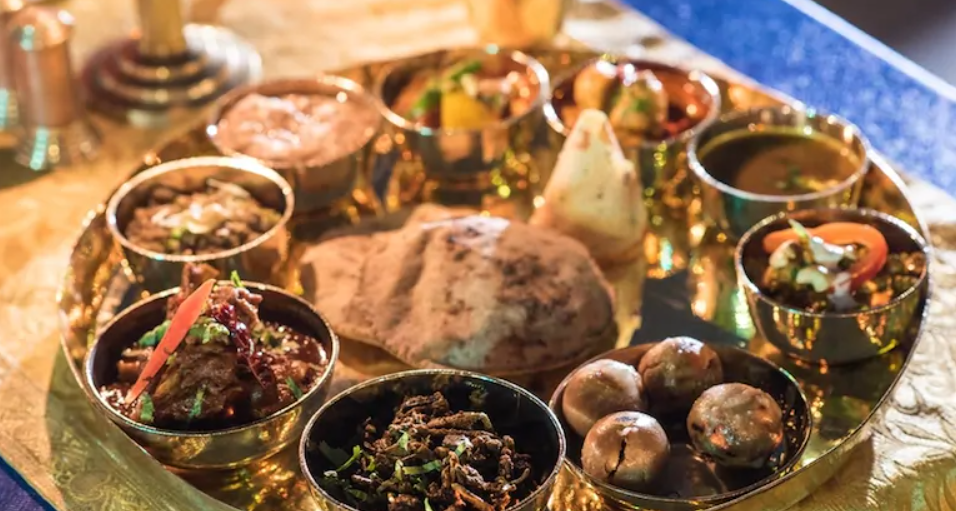 Chokhi Dhani is a famous and notable Jaipur attraction that displays the authentic colours of Rajasthani culture. It's an ethnically village resort with a variety of entertainment options, including dance, music, food, and royal-style rooms. You can remain here for a day or longer to learn about Rajasthan's unique culture.
You can tour the village on your own if you are staying at the village resort, but the main celebration begins in the evening with an exciting atmosphere. Magic acts, puppet shows, Rajasthani dance, Rajasthani folk music, fortune tellers, bamboo acrobatics, and luck forecasting parrots are among the nighttime activities at Chokhi Dhani. There are also fun activities and excursions to keep you occupied, like as camel rides, elephant rides, horseback riding, and boating.
The 'Rajasthani culture' or Chokhi Dhani tradition began in 1989. The cultural village resort, which extends up to 10 acres, features wonderfully built huts. Furthermore, the craftsmanship here transports you to a time when kings and rulers were treated with regal hospitality.
A tour during fairs and festivals is the finest method to learn about the land's culture and civilization; festivals are Chokhi Dhani's main draw, since they are the most important and magnificent events here, which are celebrated with great enthusiasm.
Not to mention the traditional picture studio, museum, and national art and craft market, all of which showcase Rajasthani culture in all its glory. The mouthwatering Rajasthani cuisine is served at the open-air restaurants here.
As a result, Chokhi Dhani is one of the best methods to learn about Rajasthan's authentic art, culture, and tradition.
A mock town named 'Chokhi Dhani' is located around 20 kilometres from Jaipur's main city and is a wonderful reflection of Rajasthani culture, food, traditions, and heritage. Rajasthani Culture is the direct translation of the name Chokhi Dhani.
The hamlet, which spans 10 acres and was built specifically to attract and teach travellers to true Rajasthani culture and heritage, was established in 1989. Chokhi Dhani quickly became well-known among tourists from all over the world by 1994.
Visitors may experience rural life and learn about the history of Rajput chivalry since it shows the vivid culture, art, folklore, and custom of Rajasthan.
Rajasthan, known for its historical forts and palaces, temples and shrines, camels and desert, folk dance and music, and arts and crafts, attracts visitors from all over the country and the world.
Rajasthan is a cultural paradise for culture lovers. There is so much to see and do in this state because it is a melting pot of many cultures, customs, and traditions. You will want to come back for more.
And, among the many amazing destinations to visit, Jaipur, the Pink City, will enchant you with its timeless beauty and lovely vibe. A journey to the capital city of Rajasthan, which is one of the most colourful and romantic destinations to visit, will be with you for the rest of your life.
If you want to enjoy every second of your time in Jaipur, whether it's just a short weekend trip or a long vacation, you should book your stay at a resort that not only ensures a secure and comfortable stay but also makes your journey a memorable one. Chokhi Dhani in Jaipur is one such resort.
Let us take a look at Jaipur Ki Chokhi Dhani through this blog.
Chokhi Dhani, Jaipur: An Introduction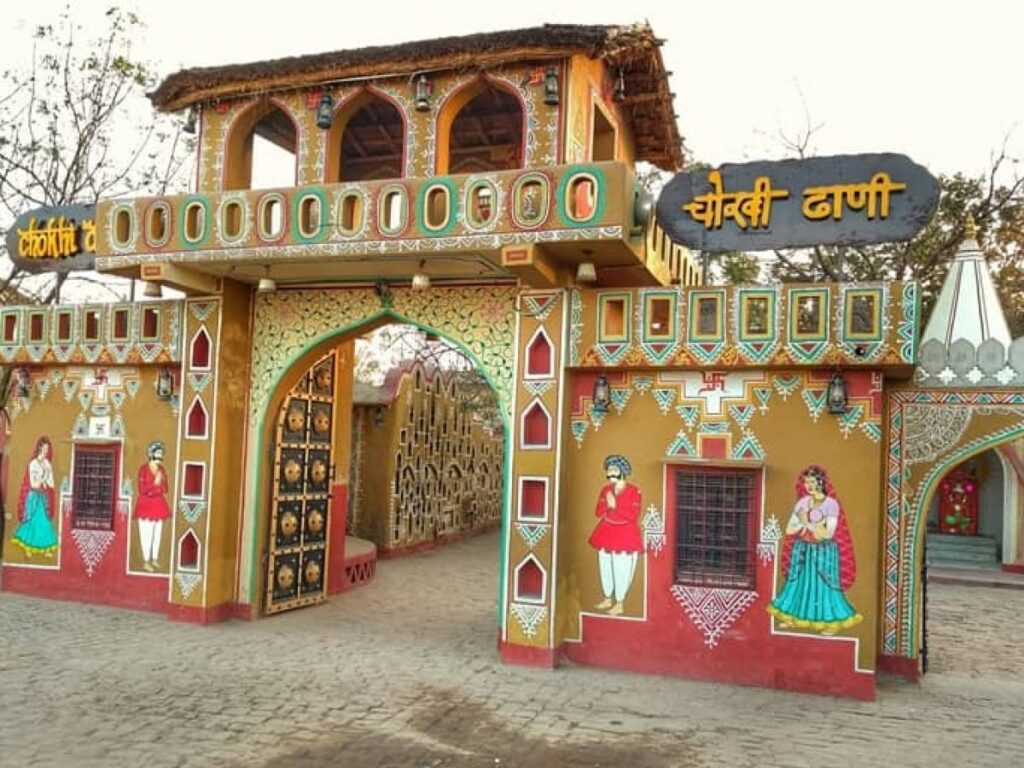 Chokhi Dhani in Jaipur is a one-of-a-kind, 5-star deluxe ethic resort that is well-received for its friendliness and ambience.
Jaipur Ki Choki Dhani is a village-style hotel in the heart of the Pink City, situated in a beautiful green terrain with lovely surrounds. Everything about this place, from the decor to the food served, symbolises Rajasthan's rich culture.
Chokhi Dhani has a variety of cottages to choose from, including Royal Suites, Family Royal Suites, Haveli Suites, Presidential Suites, Ethic Cottages, and Royal Cottages, among others. The huge resort exudes an exquisite beauty and features a Kund – a lavish swimming pool, Choupal – an open-air dining area, Sansha – the spa, a recreation centre, and a gym for visitors to enjoy.
The Chokhi Dhani village-style resort in Jaipur is a location where you may experience pure luxury as it was previously enjoyed by long-dead royal dynasties. And you'll realise that the price is well worth it for the experience you'll have at Chokhi Dhani in Jaipur.
Come and discover Rajasthan's authentic culture. This lovely village, which covers ten acres, provides a large platform for all cultural enthusiasts from across the world to learn about Rajasthan's history. From shopping for gorgeous things to eating a delicious Rajasthani lunch, this village never fails to wow visitors.
Elephant rides, camel rides, bullock rides, and Tonga rides are among the attractions available in the area. Live music and dance performances, as well as acrobatics, puppet and magic displays, take place simultaneously. The wonderful evening of Rajasthani culture comes to a close at Sangri, a village theme restaurant that serves real Rajasthani vegetarian cuisine fit for a king.
Chokhi Dhani : Gallery
The Concept
The fundamental idea behind Chokhi Dhani, a landscaped region, is to give a closer look at rural life. The ethnic village resort aspires to bring Rajasthani tribes from all over the world together and restore Indian village culture and tradition. Chokhi Dhani gives you a taste of Rajasthan with cow dung plasters and traditional clothing.
Location of Chokhi Dhani Jaipur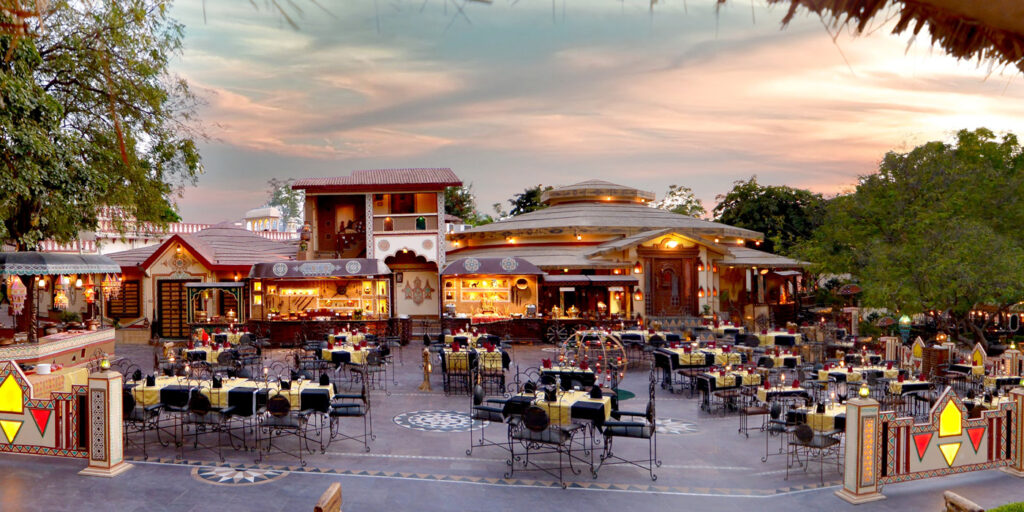 Chokhi Dhani village is located near the Jaipur end of the Ajmer-Jaipur route. The town is positioned away from the hustle and bustle of the city, providing peace and tranquilly to visitors.
The small huts here are designed to seem like authentic village huts, complete with cow dung plasters, wall decorative paintings, and the lovely art bani thani. Because cow dung is thought to have medicinal powers, the cow dung plastered huts will keep you safe from all diseases and worries.
Though people from all over the world are aware of Rajasthan's rich and royal culture, many have yet to experience it. Chokhi Dhani is built on land that is 28 kilometres away from the hustle and bustle of city life, where one can breathe fresh air and enjoy the natural beautiful views and peaceful atmosphere. All of the decorations are handcrafted, and the cuisine is prepared by royal palace cooks. The diverse collection of antiques here includes items from all around Rajasthan.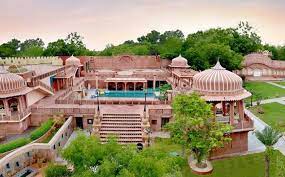 Evening Activities at Chokhi Dhani, Jaipur
The charming village-style Chokhi Dhani resort in Jaipur is set over 10 acres and is a cultural lovers' paradise. When it comes to activities at Chokhi Dhani, you can participate in a variety of them, including:
What to Do in Chokhi Dhani Jaipur
Live Entertainment
Evenings are finest at Chokhi Dhani, when there are live dance and music performances as well as other enjoyable activities. Chaupal Nach Gan Re (folk dance and song show), Nat Ro Kartab (acrobatics on a bamboo tree with no protection), Nagkanya (alive snake and girl), Kathputali Ro Nach (puppet show), and Jadu Ro Khel are among the live performances (magic show).
Attractions and Activities to do at Chokhi Dhani Jaipur
 Haldighati Battle – Reliving the magnificent Rajput past: At Chokhi Dhani, artists recreate the famous battle of Haldighati, which was fought between the Mewars of Kumbhalgarh, headed by Maharana Pratap, and the Mughals, led by Maharaja Man Singh I of Amer. The portrayal of the violent battle in which the Rajputs triumphed transports the spectator on a nostalgic and emotional journey. To Know More about haldighati or 20 Less known facts about Maharana Pratap that will blow your mind
The Haldighati Battle play or recreation is the most prominent activity of Chokhi Dhani and should not be missed.
Rath Khana – The Rath Khana showcases the chariots that Rajput Royalty have utilised from ancient times. All of the chariots utilised throughout Rajasthan, in all of the royal homes, provide guests with a one-of-a-kind experience
Temples in Chokhi Dhani – In Chokhi Dhani, there is a replica of Vaishno Devi Temple, as well as an artificial waterfall. Balaji Temple, Jungle Devta Temple, Ganesh Temple, and Tejaji Temple are some of the other temples to watch out for. The temples' diversity reflects the beliefs of Rajasthan's diverse population.
Animal and Cart Rides – A list of things to do in Jaipur would be incomplete without a camel ride. Animal rides, including bullock cart rides, camel rides, horse rides, and elephant rides, are available at Chokhi Dhani hamlet in Jaipur.
Camel, Elephant, and Horseback rides are popular, and travellers can also choose between bullock cart trips and boat rides if they don't want to ride a camel or elephant.
Music and Dance Performances – Chokhi Dhani is known for its locals' music and dance performances. The most well-known is the nomad tribe's performance, which features Kalbeliya, Ghoomar, and Chari dance forms. Aside from that, the Bamboo Acrobatics, Terah Thali Dance, and Traditional Fire Act highlight diverse folk artists' daring acts, leaving the audience amazed, speechless, and in love of their heritage.
Other acts include magic shows, in which performers show their skills by inducing various optical illusions and hypnotisms, and puppet shows, in which puppeteers relate tales from the past that are representative of Rajasthani culture.
There is an astrologer who sits with his cards spread out in front of him; there are bioscope films that depict Rajasthan's past; there are mehandi and henna artists who colour palms; and there are many other country side experiences to be had.
Chokhi Dhani is regarded as one of the top sites to visit in Jaipur for a variety of reasons. The most famous is the traditional dance and music performances, which are performed every evening by local folk artists.
Rajasthani folk music's lovely tone and stunning dancing displays are a pleasure for your ears and eyes. Kalbeliya, Chari, and Ghoomar are among the dance acts available here. It's amazing to watch artists perform different dance forms in beautiful clothes, and the greatest part is that they encourage you to join in and dance with them, which adds to the celebration's joy.
Games – The most well-known game is 'Bhool Bhulaiya,' which is a complicated maze, 'Jungle Sair,' which is a forest safari game through artificial woodland, and 'Gufa Jharni,' which is a trek game via an artificial cave constructed through artificial waterfalls. Aside from these, common games include dart games, archery, and shooting.
Shopping at Chokhi Dhani – Because Chokhi Dhani is dedicated to promoting all things local, it also encourages local artisans by presenting their handicrafts, home décor, accessories, and paintings. Kalagram has taken up this social project, and the items are reasonably priced.
National Museum at Chokhi Dhani – As the name implies, the National Museum at Chokhi Dhani showcases the rich and lively cultures and traditions of India's various states, from Kashmir to Kerala, Gujarat to the North Eastern states. The museum is well worth a visit since it is well worth every second of the visitor's time.
The resort has a museum for history buffs who want to learn more about the area's rich history and variety.
Witness the Fabled Puppet Show & Magic Show – Chokhi Dhani in Jaipur is a wonderful spot for children because it also holds a famed puppet play that reflects Rajasthan's rich culture. Aside from that, with an acrobatic and a magic performance, the kids are guaranteed to have a good time.
Get Some Mehendi Tattoos Made – Henna or Mehendi is very important in Indian culture and celebrations. You can have a Mehendi tattoo at Jaipur Ki Chowki Dhani, where you can choose from a range of unique patterns created by local Mehendi artists.
Savour the Delectable Cuisine – Chokhi Dhani in Jaipur serves mouth-watering, traditional Rajasthani cuisine that will leave you amazed. And it's not just because of the food's taste; it's also because of the way it's served. It will pamper you and offer you a taste of true India, as you will be served a delectable dinner while sitting on the floor in traditional style.
Dining and Cuisine –The major dining areas of Chokhi Dhani are Sangri and Chaupad Jeeman Ghar, which provide wonderful Rajasthani foods. Gorband is another nice dining establishment with traditional favourites placed out in an open setting.
The most luxurious is 'Royal Rajasthani,' a dining hall where guests can dine on delectable Rajasthani delicacies while being entertained by bhopa and bhopan traditional acts.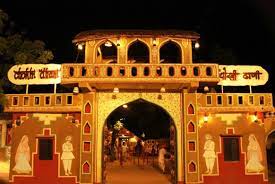 Food at Chokhi Dhani Jaipur
Chokhi Dhani is the place to go to discover Rajasthan's gastronomic scene if you want authentic and local food cooked with fresh ingredients. The layout and atmosphere of the entire village are such that it is impossible to leave without feeling regality. Chokhi Dhani's menu includes traditional Rajasthani cuisine as well as multi-cuisine platters.
Sangri – A one-of-a-kind Rajasthani cuisine restaurant, Sangri's food is the best of all the local eating options. The dish is presented on a leaf tray in accordance with Manuhaar tradition. The cuisine is delicious and well-prepared, leaving guests satisfied but wanting more.
Gorbandh – Gorbandh's spectacular open-air dining arrangements attract more visitors to this restaurant, which serves solely authentic Rajasthani cuisine. The sundried snacks and dishes cooked in fresh ghee not only seduce the taste buds and olfactory senses, but also contribute to the temptation of overeating. At Gorbandh, the Dal baati choorma and missi roti are to die for.
Chaupad Jeeman Ghar – A sit-down restaurant whose seating arrangement is inspired by the old game 'Chaupad,' which was once popular in royal households. 'Ludo,' a modern version of the game, with four straight roads that lead to a central residence. Chaupad Jeeman Ghar serves traditional Rajasthani 'Thali' cuisine. The guests are treated as kings and queens.
Kesar Kyari Barbeque – An outside restaurant providing al fresco eating options, including some delectable and appetising meals. There are vegetarian and non-vegetarian alternatives available. Chefs are continuously standing at the grills, serving to the requests of their customers, and their barbecue dishes are some of their best specialities.
Bindola Restaurant – This restaurant serves a variety of cuisines and has a unique environment. The restaurant is designed in a circular shape, with elaborate wooden carvings on the ceiling and roof lanterns, and Rajasthani Mandana paintings adorning the walls. The restaurant is well-known not only for its food, but also for its ability to communicate about local history through art.
Aragosta Restaurant – Aragosta is Chokhi Dhani's largest restaurant and resort, as well as a multi-cuisine restaurant. The name Aragosta means 'Please Eat' in English. When it comes to the food, it's fantastic, with a menu that spans North Indian, Chinese, continental, and Italian cuisines.
Choupal – Choupal is a multi-cuisine restaurant and the resort's in-house diner, serving food in buffet and a la carte formats. Choupal means "hub" or "gathering place" in Hindi, and it refers to an area in a hamlet where people assemble for conversations over meals or snacks. The restaurant has the look and feel of a typical choupal, with diners sitting, relaxing, and enjoying the meal.
Royal Fine Dining – The restaurant has a luxurious setting as well as exceptional service. Dining here is a royal experience in the literal sense, as the meal is served on silver plates, as the restaurant's name suggests. Guests can choose from a large variety of options. Royal Fine Dining is for those who enjoy spending time leisurely.
For the multi-cuisine dinner buffet
Thali cost  for Adult – INR 1,100
Thali cost  for Children – INR 700
You will find a variety of activities here, including dance performances, snake charmer performances, vegetarian dinners, welcome drinks, snacks, cultural events, costume photography, magic shows, puppet shows, Mehandi painting, music performances, and more.
Know about some amazing dishes of Chokha Dhani in Jaipur
Dal Baati Churma – This is one of Rajasthan's most well-known delicacies. There is a lot of folklore and songs about the Dal Baati Churma in this state. Dal Baati Churma is a must-have for any Rajasthani lunch. When it comes to this dish, it's made up of round Baatis and served with Panchkuti Dal and a generous helping of Churma.
Rajasthani Mawa Kachori – Because it is packed with sugary goodness of mawa, Rajasthani Mawa Kachori has the ability to melt you. This can be found in any local sweet shop. Try it with a generous helping of sugar syrup.
Some spicy foods must be purchased hot and consumed with a sense of adventure. Large green chilies are dipped in a slightly spiced besan dough and deep-fried till crispy.
Different types of Dining Hall in Chokhi Dhani village
Sangri is known for its delicious and authentic Rajasthani cuisine. In the Manuhaar custom, you will be served on a leaf platter. You will receive a warm welcome that will stay with you for the rest of your life.
Chaupad Jeeman Ghar is another ethnic eating hall that is noted for its shape. This restaurant features four straight rows that meet in the middle, each with a seating capacity of 20 people, where you can sample the greatest Rajasthani cuisine.
Gorbandh is an open-air dining area with a semi-circle-shaped ground. Food cooked with desi ghee is served here. This is well-known for its delicious fragrance. You'll also find that curries made with pulses or gramme flour are the most delicious. Dry fruits, spices, and yoghurt are all common ingredients in various dishes.
Royal Fine Dining is known for providing the ultimate royal experience. It has a royal feel about it, with a rich ambiance. Silverware is used to serve the dish.
Timings and Entry Fees of Chokhi Dhani Jaipur
Timings – Chokhi Dhani village is open all days of the year between 5:00 PM to 11:00 PM
Entry Fees – Adult tickets cost between INR 750 and INR 1200, while kid tickets cost between INR 450 and INR 800, depending on the dining choice selected.
Entry for children below the age of 3 is free.
Chokhi Dhani Village in Jaipur is best visited during the following seasons – Rajasthan's summers are excessively hot and humid, making it difficult for visitors to enjoy their stay. As a result, a trip to Chokhi Dhani in the winter, from mid-October to March, is strongly advised.
How to Reach Chokhi Dhani Jaipur
The best means of transportation to get here is by car, due to its location on the outskirts of the city on the Ajmer-Jaipur route. There are numerous transportation alternatives available, all of which are both pleasant and economical. The ideal alternative for a comfortable and hassle-free travel is to hire a private cab from one of Jaipur's top vehicle rental businesses. Chokhi Dhani can also organise pick-ups and drops because they have their own cab fleet, Chokhi Dhani Rajputana Cab Services. For a car and an SUV, the charges are INR 900 and INR 1500 for a round trip, respectively.
By Bus – If you're searching for a cheap way to get around, take a Rajasthan Road Transport bus from any section of the city to Jawahar Nagar Marg, where the Jaipur Bus Station is located. To get to Chokhi Dhani, which is 19.5 kilometres distant, take a cab or an auto rickshaw from here.
By Train – The nearest train station to Chokhi Dhani Jaipur is Jaipur Junction Railway Station, which is around 20 kilometres away. From the station to the destination, it may be necessary to rent a cab or taxi.
By Air – The closest airport to Chokhi Dhani is Jaipur International Airport, which is about 12 kilometres away. The best way to get from the airport to Chokhi Dhani is to hire a cab.
5 Best Hotels near Chokhi Dhani in Jaipur
Tourists look for hotels near Chokhi Dhani in Jaipur because Chokhi Dhani is one of the city's most important attractions. The Chokhi Dhani Village in Jaipur offers a taste of Rajasthani culture and customs right in the heart of Jaipur's Pinkcity. Chokhi Dhani, a popular tourist destination, may be a must-see if you're in Jaipur. It's essentially the entire total of Rajasthan, contained in this gorgeous location.
You'll be able to sample Rajasthani cuisine, witness locals dance, listen to local music, and take a comprehensive Rajasthani ride here. As a result, if you want to learn about Rajasthan, you must return to Chokhi Dhani. Here are the hotels that are close to this wonderful location that we've presented to you.
All the list of top chokhi dhani jaipur hotel:-
(1). The Theme Hotel is as follows – Theme hotel, which is around a twenty-minute drive from Chokhi Dhani, could be a wonderful option to stay once you arrive in Jaipur. The hotel has a few furnished rooms available for your stay. The suite room, Executive Rooms, and Deluxe Rooms are the three types of rooms available. The Theme hotel is known for providing guests with a unique experience. A rooftop bar and an all-day dining are also available at the hotel.
(2). Hotel Amrapali – Amrapali, an excellent hotel with large rooms, is just 10 minutes from Chokhi Dhani and might be your home away from home for your Jaipur trip. The hotel also has a restaurant and bar where you can relax in the evenings. Being so close to Chokhi Dhani may serve your objective of remaining in close proximity.
(3) Himalayan Tower Hotel – The hotel Himalayan Tower is a fantastic spot for travellers, being only around 2 minutes away from Chokhi Dhani Jaipur. All of the rooms have air conditioning, television, a jacuzzi, a reception hall, and other facilities. You might also have a 24-hour help desk, as well as first-aid and security services. After all, all rooms come with free Wi-Fi.
(4). Hotel Marigold – Located approximately 10 minutes from Chokhi Dhani Jaipur, the hotel may be a good option for travellers. As a four-star hotel, there are Deluxe rooms and Suites to choose from. It's a restaurant, a bar, and a rooftop eatery all rolled into one. Not to mention the fact that it has an upside-down pool. Those who want to get some exercise can do so at the hotel's own gym. All of this is reasonably priced and suits your aim of getting to Chokhi Dhani.
(5). Crowne Plaza Jaipur Tonk Road – Crowne Plaza Jaipur Tonk Road is a five-star hotel located on Tonk Road in Jaipur. Crowne Plaza Jaipur Tonk Road is only about 5 minutes away from Chokhi Dhani and could be an excellent choice for your Jaipur holiday. The hotel caters to families because it places a special focus on children and has kid-friendly facilities. This one is hard to miss, with magnificent rooms and delicious dining options. Everything you need to know about Chokhi Dhani is only a 5-minute drive away.
Location Map for Chokhi Dhani Jaipur
Official website https://www.chokhidhani.com/