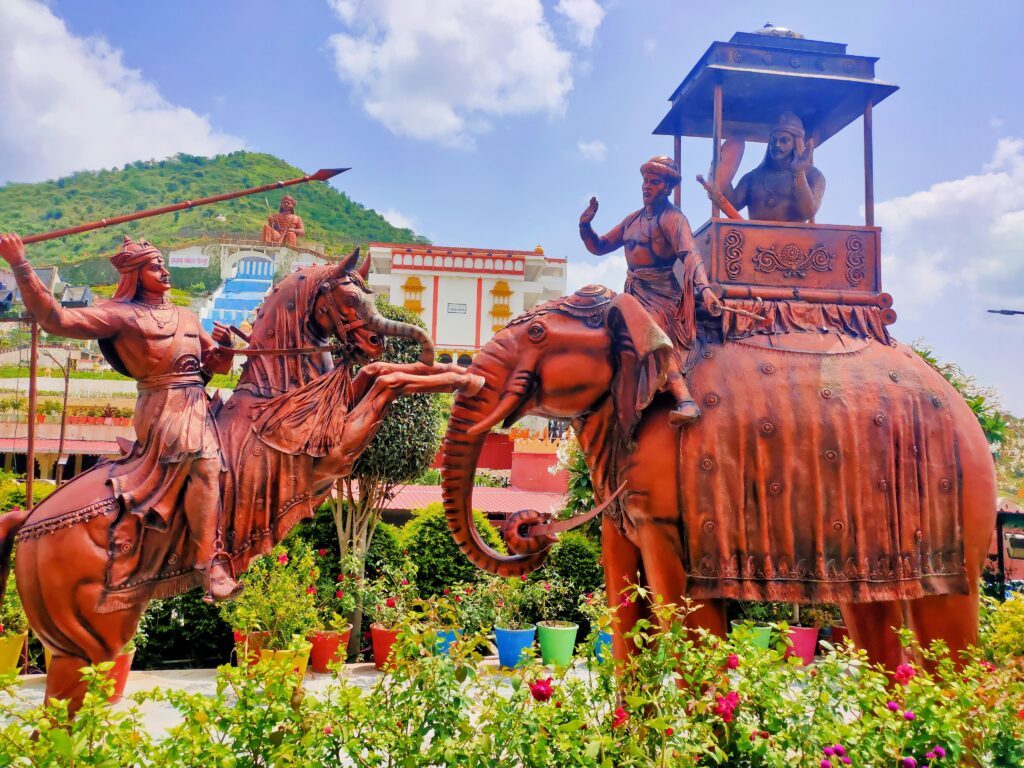 Pratap Gaurav Kendra Rashtriya Tirth is a new landmark in Udaipur which is built in the memory of the great warrior of Mewar, Maharana Pratap. It has the Biggest metal statue of Maharana Pratap in the world, sitting at the top of the hill and is 57 feet tall, weighs 40,000 kg, and is made of 8 metal alloys. A steep man-made waterfall has been created to allow water to flow at the foot of the Maharana Pratap statue.
Timings at Pratap Gaurav Kendra
| S.No. | Timings | Day |
| --- | --- | --- |
| 1. | 9:30 a.m. to 6:00 p.m. | Everyday |
Tickets at Pratap Gaurav Kendra
| S.No. | Charges per person | Indians | Foreigners |
| --- | --- | --- | --- |
| 1. | Children (0-4 years) | Free | Free |
| 2. | Children (5-12 years) | Rs.75 | Rs. 250 |
| 3. | Person (above 12 years) | Rs.150 | Rs. 500 |
Note: Foreigners also get headphones for translation as the shows take place in Hindi, headphone charges are included.
Student tour
For school tour, per student & staff charge is Rs 50.
For college tour, per student & staff charge is Rs 75.
The area where the statue is located is well constructed and you can also go there to enjoy the amazing view and click some memorable photos, you can also enjoy the beautiful view of the statue from a place outside the entrance. All the exhibitions and museums are located in the complex which is just opposite the giant statue of Maharana Pratap. All performances in the complex are in the Hindi language, and translation and hearing aids are provided for foreigners and tourists who do not understand Hindi.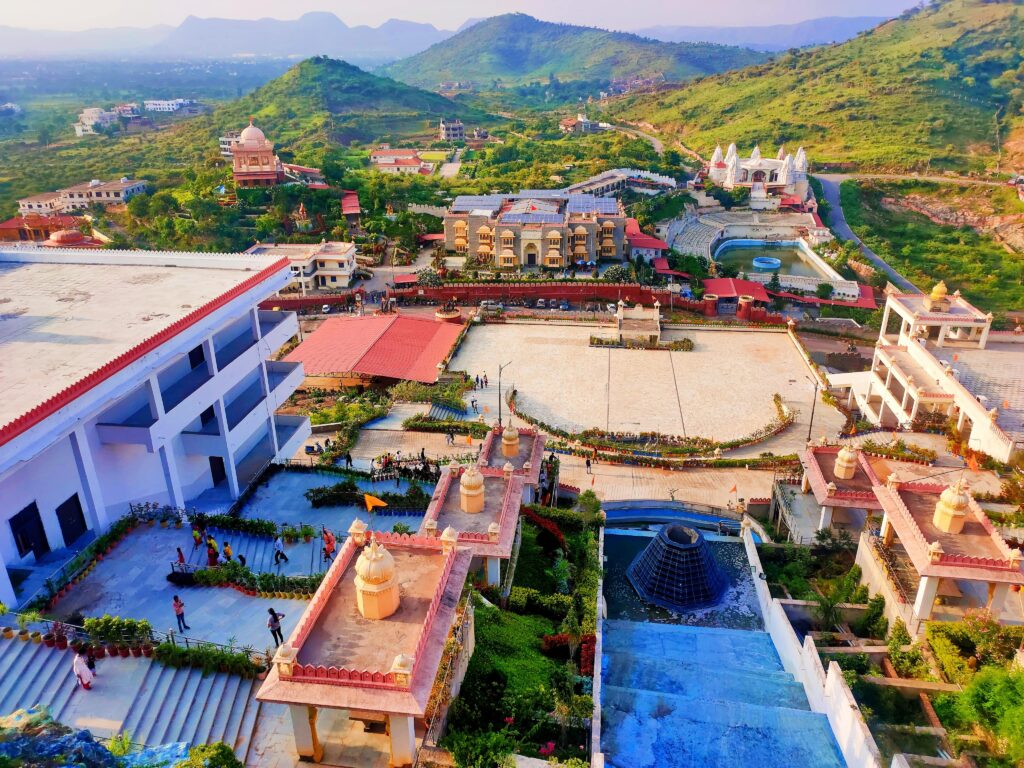 Since this site acknowledges the contribution of the patriotic contributors of India, this place is termed 'Rashtriya Tirth' (National Pilgrimage). Every Indian or non-Indian must visit this place to confront the great history of Mewar, as the history is compiled in the best way possible.
Major Attractions at Pratap Gaurav Kendra
Art Galleries of Maharana Pratap's paintings.
Bharat Mata Temple
Bharat Darshan Dirgha
water pond
Galleries of Merchandise
Swamibhakt Chetak's magnificent statue
Meera Bai and a Documentary film on Mewar's history
12 feet metal statue of Bharat Mata
57-feet statue of Maharana Pratap
It is a worthwhile site to learn about our past warrior and the history of Mewar, as it provides information about the past of Mewar and India, demonstrating how it was ravaged by invaders and its borders were decreased. A moving figures, sound, and light exhibition of Mewar's history is one of the attractions.
About Pratap Gaurav Kendra
In the memory of the Maharana Pratap, the great warrior of Mewar, who fought valiantly for his kingdom and people, and whose personality cannot be matched and to honor him, the Veer Shiromani Maharana Pratap Samiti established the PRATAP GAURAV KENDRA RASHTRIYA TIRTH, a new Tirth in Tiger Hills near Manoharpura, Badgaon, Udaipur, Rajasthan.
The goal of this initiative is to provide information about Mewar's historical idol Maharana Pratap and his history and to use contemporary tools to reveal details about the historical heritage. It is prepared to showcase the country's great past in a language and media that the majority of people understand, such as audio and visual, 3D presentation, live mechanical model, water show, art galleries, and so on. The main goal is to raise public awareness about the history of the Mewar warriors and their pride journey.
Structure of Pratap Gaurav Kendra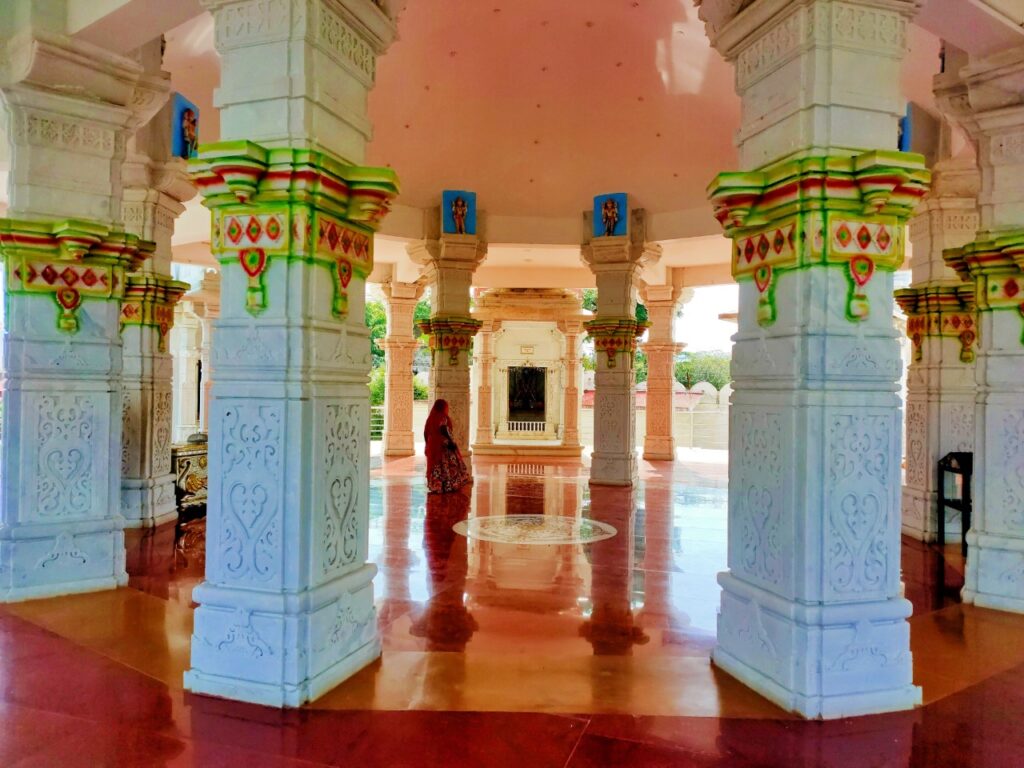 Veer Shiromani Maharana Pratap Samiti was created in 2002 to make aspirations come true or to embody Sri Sohan Singh Ji's vision, and a piece of 25 bigha land was purchased in 2007. This project was estimated to cost 100 crore rupees. Sangh swayamsewaks also provided money to this cause. This is situated across 25 bighas of land and will have a 60-painting exhibition connected to Maharana Pratap's life. The project presents knowledge in bits and pieces, backed up by facts, detailing how Bharat was once a world leader, how it was looted by invaders, and how its borders were reduced. Watching the world's largest, 57-foot-high statue of holy king Maharana Pratap seated on a rock will leave you speechless.
There is a Maharana Pratap exhibition with wonderful paintings depicting Maharana Pratap's life and captions in Hindi and English. The Galleries feature a magnificent statue depicting the life of Rajasthan Heroes, complete with a caption in Hindi and English. The Rajasthani Gaurav Dirgha provided glimpses of it. The stories of inspiring men and women's lives continue to inspire us in this region of sand dunes. Haldighati Yudh Vijay dirgha presents the truth about the Haldighati war through live 3D scenes set in the year 1576A.
Bharat Darshan dirgha depicts Bharat's geographical and cultural splendor from ancient times to the present. It focuses on Takshashila, where students from all over the world used to gather to learn. Sitting in one room, one can envision the most important pilgrimage sites, rivers, holy cities, sapta puris, temples, and their significance. It comes to life through the use of light and sound.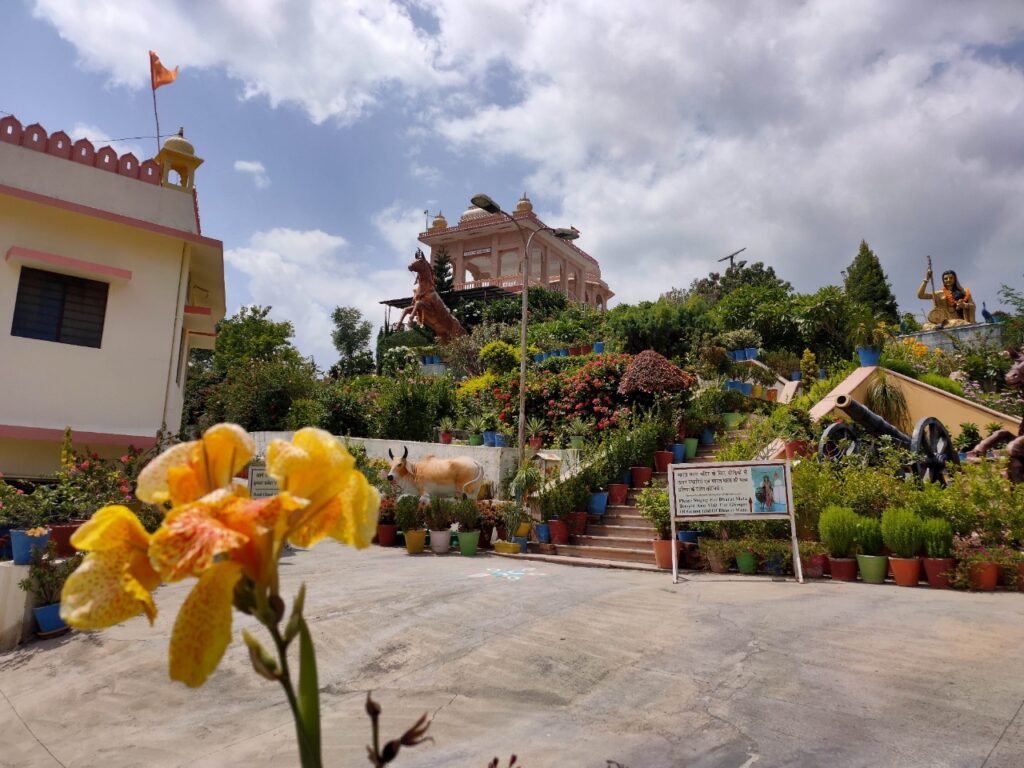 Apart from educating the public about the glorious past, it also encourages them to consider why many of our hallowed sites, such as Kailash Mansarovar, are located in China. There is also a 12-foot metal statue of Bharat Mata, which signifies that every iota of his life, every drop of blood from his body is dedicated to her devotion. The project boasts cutting-edge infrastructure that will keep visitors entertained for at least two to three hours.