Taj Lake Palace's exquisite white marble palace seems to float majestically in the calm waters of Lake Pichola, and visitors will feel like a distinguished guest of Maharana. The Taj Lake Palace was originally built as the Summer Palace and has recently been remodeled and restored to its former glory as a leisure activity. Surrounded by breathtaking fairy-tale gardens, this 250-year-old palace may be the most romantic hotel in the world.
The hotel has 66 luxurious rooms and 17 grand suites, all of which are decorated in the style of the former palace. Every room has a breathtaking view of the lake that surrounds the property and, in the distance, the city of Udaipur. Sunsets and sunrises are spectacular here.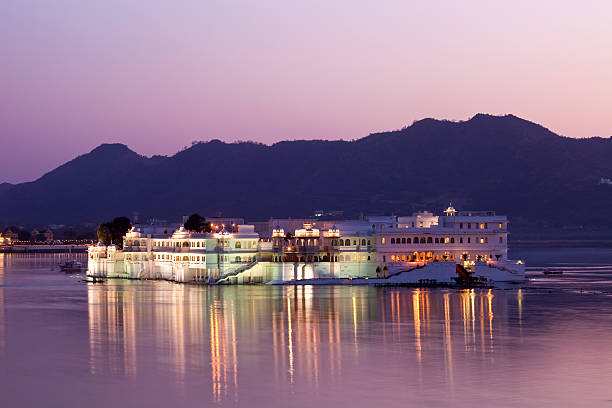 The magnificent palace formerly known as the Jag Niwas appears as a mirage in the middle of the beautiful expanse of Lake Pichola. The beautiful marble palace was built between 1743 and 1746 as the winter palace of Maharana Jagat Singh II of the Mewar royal dynasty. The walls of this magnificent masterpiece are made of white and black marble and are embellished with semi-precious stones and ornamented niches. Elaborate gardens, fountains, and pillared terraces adorn the palace's interiors, and magnificent courtyards with peacocks strolling by recreate the magic of a bygone era. The Royal Butlers, descended from the original palace retainers, serve guests with unrivalled grandeur and tradition.
The hotel is also well-known for its signature specialty restaurants, which serve dishes that were once served on royal tables. Visit Neel Kamal to savour authentic Rajasthani cuisine while admiring the stunning surroundings. Bhairo, an open-air restaurant, serves modern European fare. Amrit Sagar, the hotel's plush and elegant bar, serves an exotic selection of fine spirits, wines, and exotic cocktails. The Taj Lake Palace's restaurants are only available to residents.
The hotel's one-of-a-kind and breathtaking surroundings make it a fairytale destination for social events and celebrations such as weddings, anniversaries, and more. The hotel caters to all requirements and makes every event unforgettable, carrying on the palace tradition of holding grand soirees and formal events.
Udaipur, also known as the Venice of the East, has many elaborate palaces and tranquil lakes that make for unforgettable visits. Experience this magical city while staying at the Taj Lake Palace, Udaipur's best 5-star luxury hotel.