Khatu Shyam Ji Mandir Entry Fee – Entry free
Khatu Shyam Ji Mandir Timings
Winters: The temple is open from 5.30 am to 1.00 pm and from 5.00 pm to 9.00 pm
Summers: The temple is open from 4.30 am to 12.30 pm and from 4.00 pm to 10.00 pm
Khatu Shyam Ji Mandir Darshan & Aarti Timings
Every day, five aartis are performed at the Khatu Shyam Ji mandir. The devotional ambiance and serenity created by the chanting and aarti are unparalleled, and if you plan a visit to this beautiful temple, you should try to attend one of these aartis.
Mangala Aarti: This is performed early in the morning before the temple's gates open to devotees.
Shringaar Aarti: As the name implies, this is the time when Khatu Shyam Ji's idol is lavishly decorated and accompanied by an aarti.
Bhog Aarti: The third aarti of the day, it is performed at noon when the lord is served bhog or prasadam.
Sandhya Aarti: This aarti is performed in the evening, near sunset.
Sayana Aarti: Sayana aarti is performed before the temple closes for the night.
At all of these times, two special hymns are chanted. The Shri Shyam Aarti and Shri Shyam Vinati are two of them.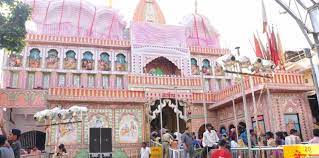 Khatu Shyam Ji Mandir is a holy site in the district of Sikar, Rajasthan, and is one of the most important in the state. Khatu Shyam Ji is the manifestation of Ghatotkacha's son, Barbarika, according to Hindu mythology. Devotees who pronounce his name from the bottom of their hearts are said to be blessed and to have their troubles removed if they do so with true piety.
Story of Khatushyamji
The story of Shree Khatu Wale Shyam ji is as follows. Here you will see how Khatu Shyam ji created his Leela and descended his head from Shyam Kund near Khatu Shyam temple. Jai Ho Aapki Khatu Shyam ji In Khatwa Nagari (Khatu Dham), a cow which used to graze on grass daily used to stand on a part of the ground every day. From her udders, the stream of self-milk used to get absorbed into the earth, as if someone is drinking the milk of that cow mother from inside the ground. After coming home, when the owner of the cow tried to extract his milk, he could not get the cow's milk. This sequence continued for many days. The cow owner thought that there must be someone who takes out the milk of his cow. One day that cow owner chased that cow. When he saw this sight in the evening, his eyes were amazed at this miracle. Cow mother's milk started pouring into the earth on its own. The cow owner went to the village Rajan with astonishment and told the whole story. The king and his assembly did not believe at all on this matter. But the king wanted to know what was the matter. The king came to that land with some of his ministers and saw that the owner of the cow was speaking right. He asked some of his people to dig that part of the land. As soon as the part of the land started being dug, a voice came from that earth, oh slowly dig, here is my head. I was a brave barbaric in the Mahabharata period and I donated my head to Lord Krishna, as a result, I have got the boon of being worshiped in Kaliyuga, digging my head will get my head from that land and you will have to build my Khatu Shyam temple. When the king woke up in the morning, keeping in mind the matter of dream, started Kudai again, and then soon the head of Kaliyuga Dev Shree Shyam descended from that earth.

Images of KHATU SHYAM JI TEMPLE
THE HISTORY OF KHATU SHYAM JI TEMPLE
According to Hindu mythology, before the battle of Mahabharata began, Barbarika's prowess was unrivalled. He had made the decision to favour the weaker side in order to remain just, a decision that would have resulted in the annihilation of both sides, leaving only Barbarika as the sole survivor. To avoid such disastrous consequences, Shree Krishna is said to have asked Barbarika for his head (sheesh daan), to which he readily agreed. Shree Krishna was so moved by Barbarika's devotion and great sacrifice that he granted him a boon, according to which Barbarika would be known by Krishna's own name, Shyam Ji, in the Kaliyug (present times) and worshipped in his own form.
THE KHATU SHYAM MANDIR IS BEING BUILT IN RAJASTHAN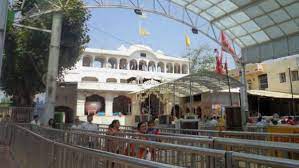 Shree Krishna blessed Barbarika's head and drowned it in the Rupawati River after the battle. Once the kaliyug began, the head was discovered buried in the village of Khatu in Rajasthan, at a previously unknown location. When a cow was crossing the burial point, her udders began spontaneously spouting milk. Surprising villagers dug the site, and the buried head was discovered. The then-Khatu king, Roopsingh Chauhan, had a dream in which he was asked to install the head inside temple. This was the time when the temple was built and the head was placed inside.
Architecture of KHATU SHYAM JI TEMPLE
The temple, which is made of white marble, is a true architectural marvel. Aside from being a popular destination for devotees, many people visit the temple to marvel at the structure's beauty. The large prayer hall, Jagmohan, is surrounded by walls depicting intricately painted mythological scenes. While the entrance and exit gates are made of marble and have marble brackets with ornamental floral designs, the sanctum sanctorum shutters are covered with a beautiful silver sheet that adds to the temple's grandeur.
Bathing in the kund near the temple of khatu shyam Ji
The Shyam Kund, or holy pond, is located near the temple. It is said that the head of Khatu Shyam Ji was retrieved from this location. A popular belief among devotees is that taking a dip in this pond will cure a person's ailments and bring them good health. People taking ritual dips in the pond with devotional fervour are not uncommon sightings. Bathing at the Shyam Kund during the Phalguna Mela Festival, which is held every year, is also thought to be particularly beneficial.
How to reach KHATU SHYAM JI TEMPLE
By Roadways: The Khatu Shyam Mandir is easily accessible by car or train. The nearest railway station to the temple is Ringas Junction (RGS), which is approximately 17 kilometres away. You find a number of cabs and jeeps (private or shared), waiting right outside the station to take you to the temple.
By Railways & Airways: There are a number of trains that run from Delhi and Jaipur to Ringas, which you can take. The nearest airport is Jaipur International Airport, which is about 80 kilometres from the temple and can be reached by road. The most direct route is via the Sawai Jai Singh Highway to the Jaipur-Sikar Roads to the Agra-Bikaner Road, also known as NH 11.
Note: Between Jaipur and Khatu, there are also several private and government buses. However, no reserved seats are available on these buses. You can take an auto-rickshaw to the temple from the Khatu bus stop.
Entry fees and timings of KHATU SHYAM JI TEMPLE
There is no entry fee to visit KHATU SHYAM JI TEMPLE .
Winters: The temple is open from 5.30 am to 1.00 pm and from 5.00 pm to 9.00 pm
Summers: The temple is open from 4.30 am to 12.30 pm and from 4.00 pm to 10.00 pm
Things to do at KHATU SHYAM JI TEMPLE
People seek God's blessings in order to alleviate their stress. It is believed that by seeking Khatu shyam Ji's blessing, people move one step closer to spiritual liberation from all worldly struggles and pains.
Distance from Different Locations to Khatu Shyam ji:
Ringas to Khatu Shyam Ji: 17 km. by road.
Jaipur to Khatu Shyam Ji Via Ringas : 88 KM by Road (Direct Buses are available from Sindhi Camp Bus stand, Jaipur)
Jaipur to Khatu Shyam Ji Via Chomu, Kaladera, Badhal, Lamiya: 75 KM by Road
khatu shyam mandir, khatu shyam ji mandir, khatu shyam mandir rajasthan, khatu shyam mandir agra, khatu shyam mandir jaipur khatu shyam mandir, khatu shyam ji mandir, khatu shyam mandir rajasthan, khatu shyam mandir agra, khatu shyam mandir jaipur
Best Time to visit KHATU SHYAM JI TEMPLE
There is no best time to seek God's blessing, but you can take a quick trip in the spring season if the weather is good (February- March).
Location Map for KHATU SHYAM JI TEMPLE
You May Like:
Maharana Pratap | Top Facts About Maharana Pratap
Eklingji Mahadev Temple | Kailashpuri