This page contains a list of the best cafe in Udaipur: Coffee and friends are a lovely combo. You don't always need to go to a perfect fancy restaurant or a hotel. Cafes exemplify a laid-back, relaxing, and chill vibe. When you're feeling stressed, sit back and relax with a cup of coffee and some friends. Here is a list of the top ten cafes in town that you simply cannot afford to miss.
This time, I've compiled a list of the 20 best must-see cafés in Udaipur, each of which has a unique combination of good food, a good mood, ambiance, quality service, and sumptuous drinks.
List of Best Cafes in Udaipur
Jheel's Ginger Coffee Bar & Bakery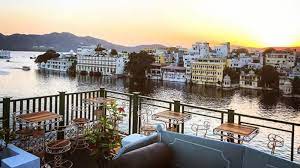 This location is perfectly described by its name. Jheel (Lake). Jheel located adjacent to Lake Pichola, provides the most attractive view of the old city. This location is extremely popular among young people. It provides three different sittings—indoor, rooftop, and lakeside—from which to choose. The view is a visual treat, perfectly capturing the beauty of Udaipur. This idyllic lakeside café would brighten your day. When it comes to food, they have a variety of Shakes, Sandwiches, and, of course, Coffee! This café will never let you down with a decent menu and excellent service. This restaurant is ideal for breakfast or brunch with a small group of friends.
Address: 52-56, Gangour Ghat , Jheel Guest House, Udaipur
Contact: 9461016511
Hook & Irons Cafe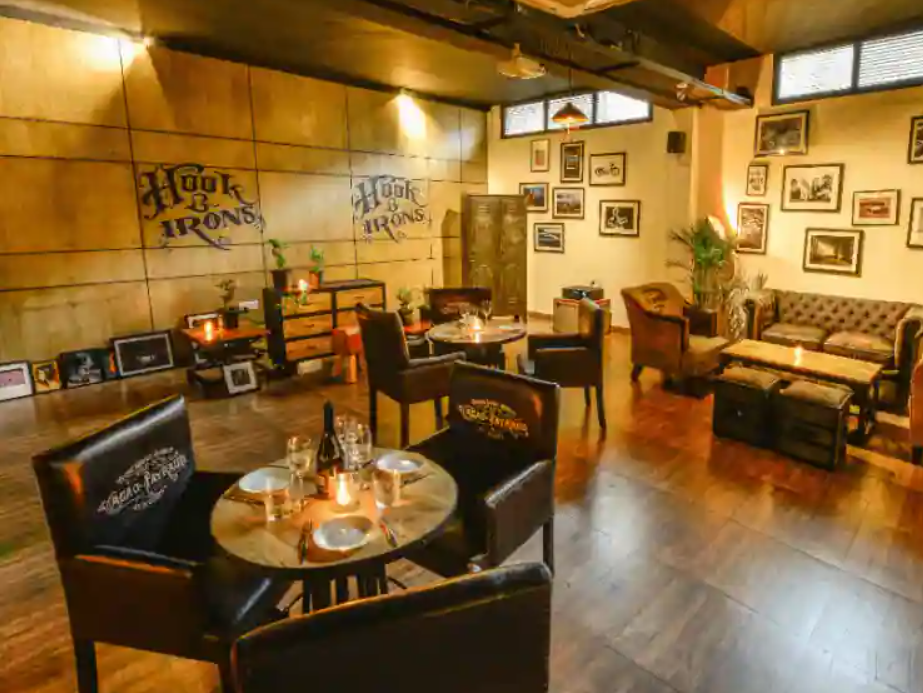 With its sophisticated feel, savoury food, classy cocktails/mocktails, and amazing music, this café and restaurant, which was recently launched in Udaipur, has become the talk of the town. This café hosts live music performances by Udaipur's upcoming talent and is a popular hangout for young people.
Address: basement of Hotel Paras Mahal, Sector 11, Hiran Magri
Contact: 8003559555 (for reservations)
Oladar Village Cafe
This one-of-a-kind location has the feel of an ultra-modern European village. This cafe's architecture is a perfect blend of Indo-European style. This serene and tranquil spot is located in the heart of the city, next to the majestic Gulab Bagh. With French chandeliers, wood-metal furniture, incredible paintings, and a beautiful royal ambiance, it quickly becomes one of the most amazing cafes in town. The menu includes a variety of cuisines such as continental, Italian, and Indian, as well as delectable coffees and mocktails. This café is divided into sections, each of which is unique but similar in one way: they are all absolutely stunning. It is one of the best cafes in Udaipur for socializing with friends and family.
Address: 14/21, Lake Palace Road, Udaipur
Brewz Rock Cafe
This place, also known as BRC, has a very Rock/Classic vibe to it. Because Udaipur is known for its scenic beauty, BRC serves as a place to unwind and socialize with friends. The atmosphere is shady, giving it the appearance of a lounge rather than a café. From fine dining and excellent service to live band performances, DJ, Karaoke, and live sports, it is an excellent choice for parties and events. With rock music playing, this becomes a cool place to hang out if you're in the mood for a party and want to have a Blast.
Address: Celebration Mall, G-20, Opposite Devendra Dham, G-20, National Highway 8, Opposite Devendra Dham, Pulla Bhuwana, Bhuwana, Udaipur
Mic & Munch Cafe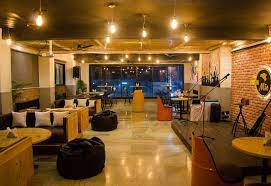 Mic & Munch Cafe, which introduced Udaipur to the delights of Mexican food, tasty cuisines, and an open mic setup, has already become popular amongst youth and local artists. It is the first time in Udaipur that an open mic concept has been proposed, an open mic that is open to all. Aside from the cafe, there are several activities to enjoy. For example, the karaoke is rocking, and local artists perform live on weekends, making this café ideal for hosting parties and small gatherings.
Address: 1st floor, Inaya Complex, Near D.P. Jewelers, Bhopalpura, Court Circle, Udaipur
Sai Sagar Coffee House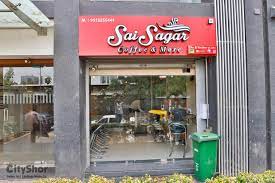 Sai Sagar Coffee House has emerged as a major coffee outlet in the city, a hot spot for all coffee lovers, whether young and restless or old and wise. A crowd is always present when there is a view of Fateh Sagar and an open ground beside the café. Cold coffee with ice cream (choco chip, by the way) and hot coffee are both available in Kulhad, which is a treat for all coffee lovers.
Address: Mumbaiya Bazar, Fateh Sagar.
Mathara- The Heights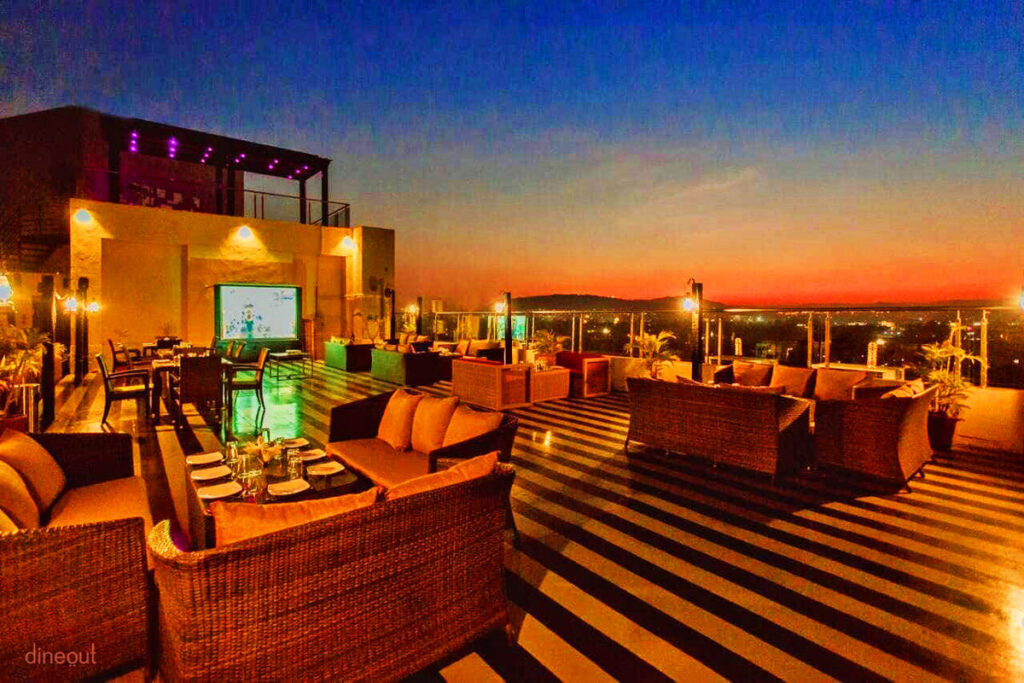 The newest addition to the list, Mathara- The Heights Restaurant, Café, and Lounge, provides a breathtaking view of the entire city. The location is gaining popularity as the highest rooftop café in Udaipur. This is a one-stop café for all groups of people, offering a variety of beverages, snacks, and meals.
Address: Rooftop, Lakecity Mall, Durga Nursery Road
Dialogue Cafe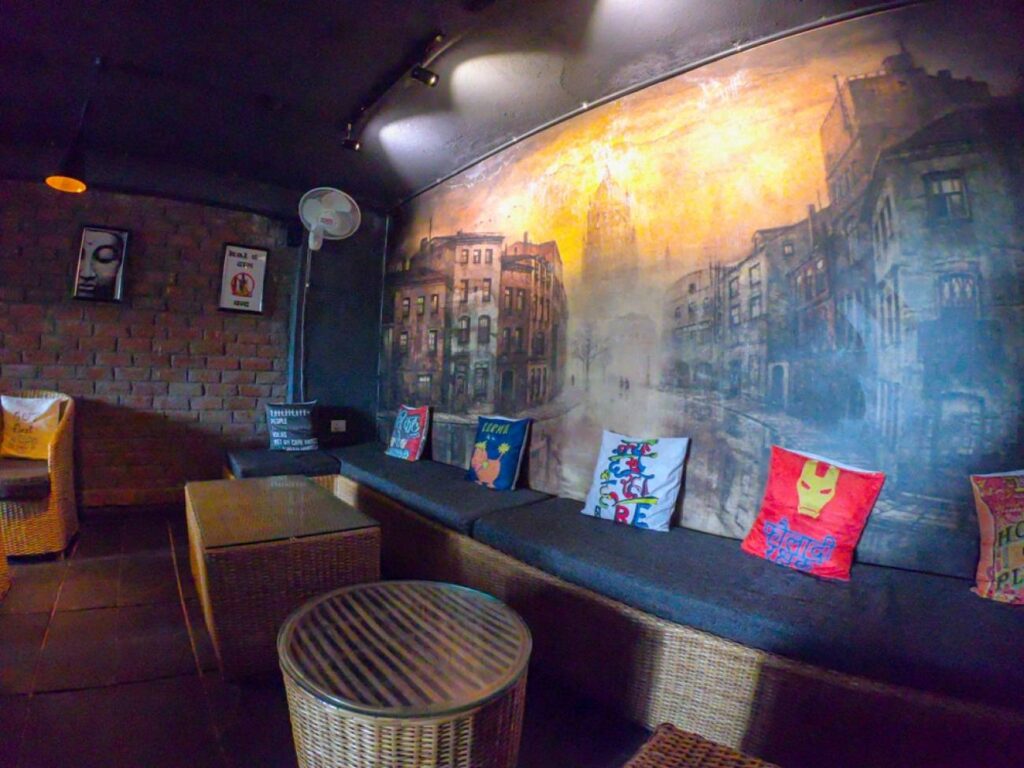 The interior of this establishment completely justifies its name. This place is lively thanks to the quirky theme and the craziest dialogues on the frames and cushions. It gets even better with a great menu, tasty food, friendly service, and quick service. The atmosphere is cheerful and happy, and the place is a little cosy but comfortable.
Address: Shobhagpura 100 Feet Road, Near Shubh Kesar Garden, Udaipur
Cafe Cook Hook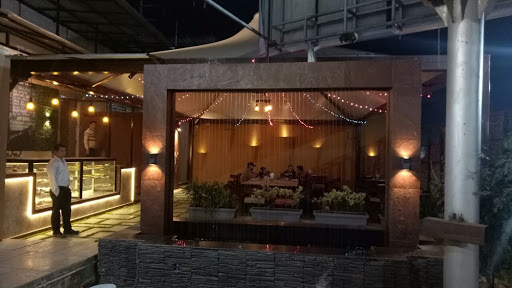 This is definitely the Savior in Disguise. This new location, located right in the heart of the city, is a must-see. The decor is exquisite, and the food is delectable. They serve high-quality food at very reasonable prices. The variety of coffee, shakes, and bakery items will make your heart skip a beat. Those who have not yet visited this location should do so as soon as possible.
Address: Ashoka Cinema Rd, Thakkre Baba Conlony, Nada Khada, Udaipur
Royal Brewmen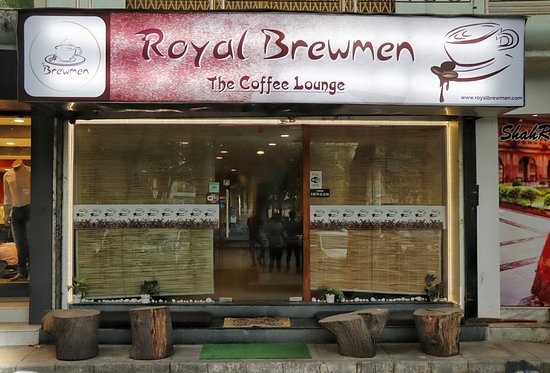 As one of the coolest cafes in Udaipur, this place exudes an energetic vibe that makes you feel alive. With a sleek yet simple ambiance, the café defines perfection without trying too hard to stand out. With free Wi-Fi, trendy meals, and wooden logs outside for visitors, it quickly becomes one of the most popular spots among locals.
Address: No.4, Hitawala Complex II, Saheli Marg, Udaipur
Cafe Nirvana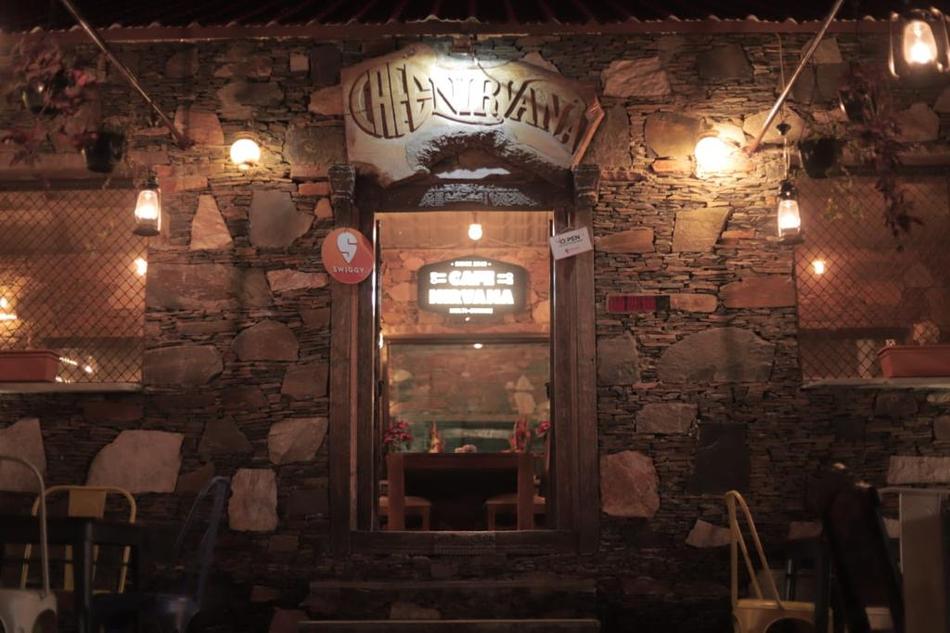 This location is ideal for a weekend getaway. With Rock music playing in the background, it sets the stage for an exuberant meal that will satisfy all food cravings. It has a nice retro ambiance that welcomes you with warmth and complements its delectable light eats and fine beverages. It is one of the most well-known cafes in Udaipur. During the winter, the cafe's main draw is its bonfire setup. The cafe depicts a one-of-a-kind storey with a theme based on Rajasthani culture and motorcycles. From the brightly coloured graffiti expressing some untold stories to the cafe's interior and menu, there are many aspects that make you fall in love with it.
Address: Sajjan Garh Rd, Eklavya Colony, Seesaram Rural, Udaipur
Hello Boho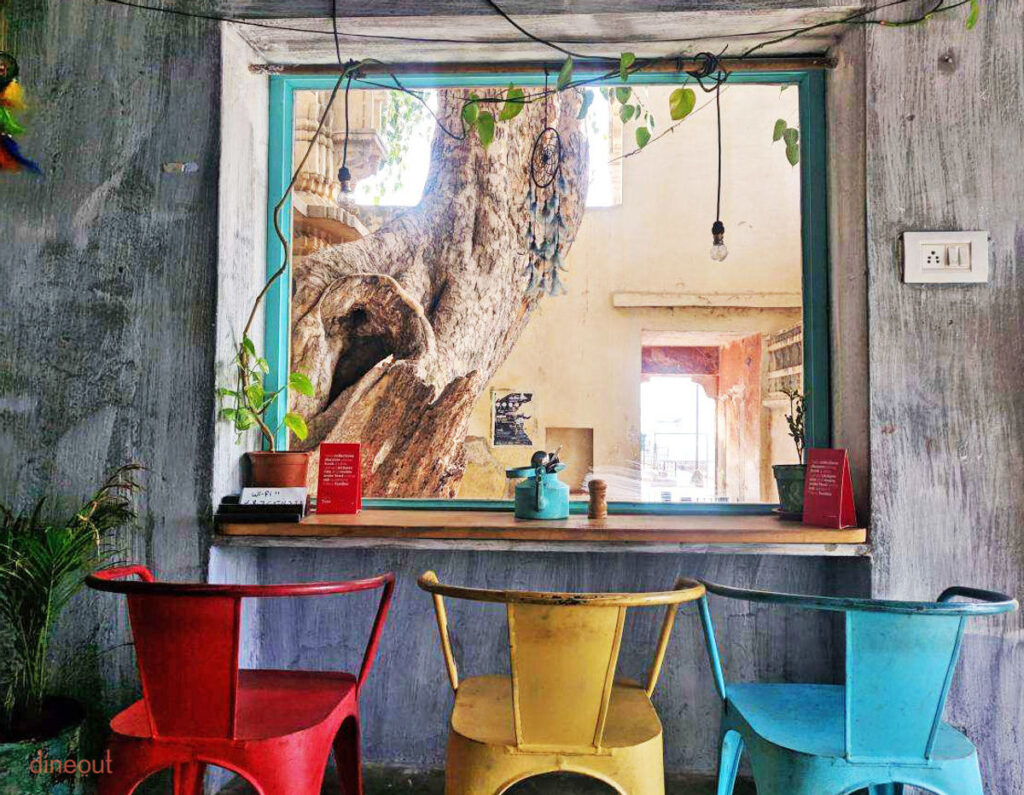 Hello Boho, the town's cosiest and cutest café, enchants you with its warmth. The interior has an authentic Bohemian feel to it, with a continental menu and Indian dishes, as well as a variety of Coffees, Shakes, and Mocktails. The staff is extremely friendly, and the service is excellent. With the enchantment of the ghat as a backdrop, it becomes the ideal blend of Indo-Boho style.
Address: Pichola, Udaipur, Rajasthan
Cafe Lazy Beans
Which person does not adore pandas? This cafe with a Lazy Panda theme is absolutely adorable. This place is phenomenal. The menu is a unique amalgamation of tastes from different parts of the world, offering you a wide range of mouthwatering latte, snacks, and desserts. Another feature that distinguishes it from the competition is the seasonal menu. With good food and a pleasant atmosphere, this establishment is well worth a visiting.
Address: Swarop Sagar Road, Shiksha Bhawan Chouraha, Near Swaroop Sagar Lake, Udaipur
Cafe Believe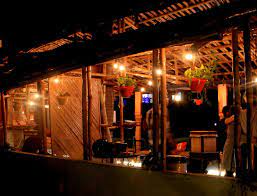 With bamboo roofs, room separators, and seats, this café overlooks Lake Pichola and has the appearance of a shack. The café also hosts 'Believe Happenings,' which are themed dates for couples, as well as photo shoots. The best time to visit the café is in the early evening, when a classic green virgin mojito will provide you with a blissful feeling after a long and exhausting day.
Address: The Study School lane, near Hotel Natural Lake View, Ambavgarh
Ice & Spice Cafe
A Go Bananas Food, Ice & Spice Café unit is modelled after roadside European cafes, complete with patio chairs, a movable kiosk, and an open sitting area. The food is undeniably delicious, with a wide selection of sandwiches, pasta, burgers, and other dishes, as well as drinks. Spinach corn sandwich and pasta with cold coffee are my favourites.
Address: RKay Mall, Panchwati
NOTE: The cafes are not listed in any particular order, but they are all among the top 15. The author's opinion is entirely his or her own, and the list is compiled with popularity, reviews, cafe services, and other important factors in mind.
Best cafe in Udaipur Best cafe in Udaipur Best cafe in Udaipur Best cafe in Udaipur Best cafe in Udaipur Best cafe in Udaipur Best cafe in Udaipur Best cafe in Udaipur Best cafe in Udaipur Best cafe in Udaipur Best cafe in Udaipur Best cafe in Udaipur Best cafe in Udaipur best cafes in udaipur best couple cafe in udaipur best cafes in udaipur best couple cafe in udaipur best cafes in udaipur best couple cafe in udaipur best cafes in udaipur best couple cafe in udaipur best cafes in udaipur best couple cafe in udaipur best cafes in udaipur best couple cafe in udaipur best cafes in udaipur best couple cafe in udaipur best cafes in udaipur best couple cafe in udaipur best cafes in udaipur best couple cafe in udaipur
You may like:
Top 15 Best Pool Party Venue in Udaipur under RS-300 | 2021
Top 10 Best Budget Destination Wedding in Udaipur 2021