Chittorgarh is a major city in the Rajasthan state in western India. It is the administrative center of Chittorgarh district, located on the Berakah River, a tributary of the Banas River. and From the eighth to the sixteenth century, it served as the capital of the Rajput state of Mewar.
Chittorgarh is home to the Chittor Fort, India's and Asia's largest fort. It was sacked three times: once in 1303 by Alauddin Khalji, again in 1535 by Bahadur Shah of Gujarat, and finally in 1568 by Mughal Emperor Akbar the Invader. Its Hindu Rajput rulers fought valiantly to keep their independence. When faced with certain defeat on all three occasions, the men fought to the death, while the women committed suicide by Jauhar (mass self-immolation). Chittor has also been a place of worship for Meera, and it is also well-known for Panna Dai.
Chittorgarh Fort
Chittor Fort perched on a 180-meter hill sprawls over 700 acres (2.8 km2). The Mauryans built it in the seventh century AD. It is also said to have been built by Bhima of the Pancha Pandavas. Many great Rajput warriors lived in this fort, including Gora, Badal, Rana Kumbha, Maharana Pratap, Jaimal, Patta, and others.
Timings of Chittorgarh fort
| S.No. | Timings | Day |
| --- | --- | --- |
| 1. | 9:00 a.m. to 6:00 p.m. | Everyday |
Note: The Chittorgarh Fort is open from 9:00 a.m. to 6:00 p.m. The fort is open seven days a week, but the museum is closed on Mondays.
Entry Ticket of Chittorgarh fort
| S.No. | Particulars | Price |
| --- | --- | --- |
| 1. | Children(below 15) | Rs. 15 |
| 2. | Adult | Rs. 20 |
| 3. | Foreigner | Rs. 200 |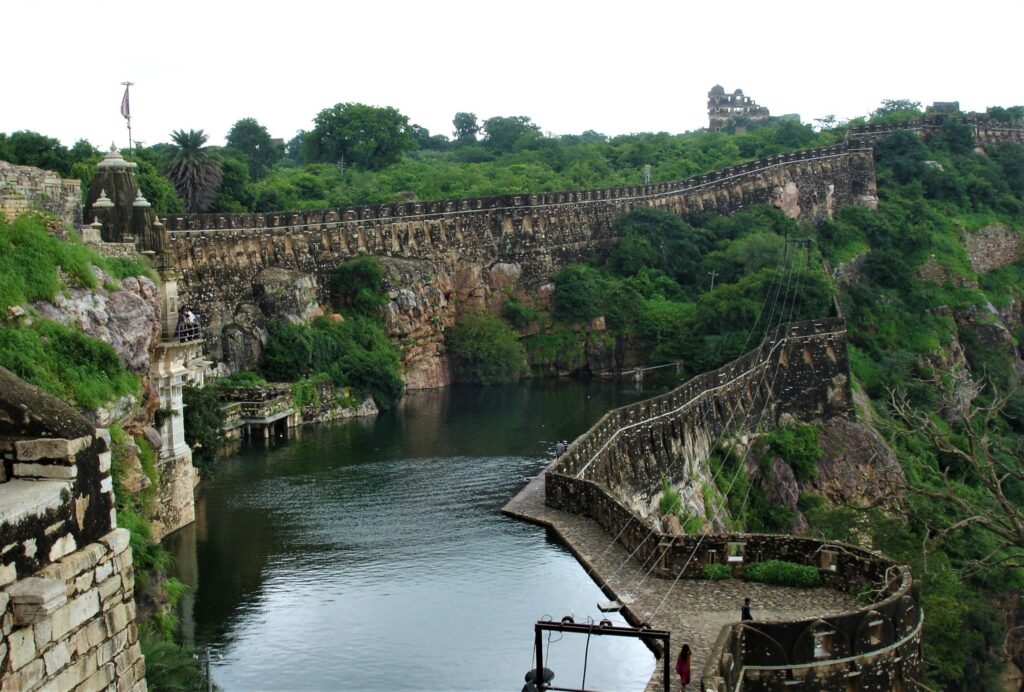 Temple of Kalika Mata
The Kalika Mata Temple was built in the eighth century for the Sun God and was later converted to a temple for the Mother Goddess, Kali, in the fourteenth century. During the Navaratri festival days, fairs are held, and pilgrims from all over come to pay their respects at the temple.
Vijay Stambha
Vijay Stambha is a huge nine-story tower built by Maharana Kumbha to commemorate his victory over the rulers of Malwa and Gujarat in 1440. The tower is 122 feet (37 meters) tall and stands on a 10 foot (3 meters) base. The tower's exterior walls are adorned with sculptures and carvings. The tower can be seen from all over the city below. And, after climbing 157 steps to the top of the tower, one can enjoy a panoramic view of the surrounding area. The inner wall of the tower is decorated with statues and weapons.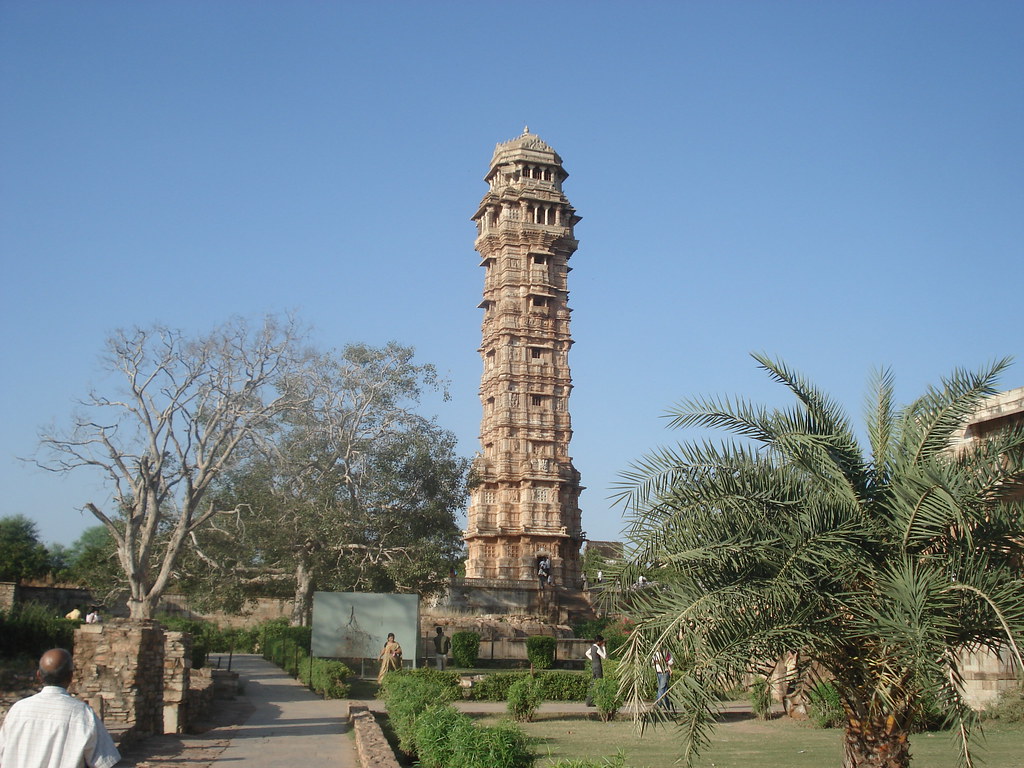 Rani Padmini's Palace
According to legend, Rani Padmini's Palace is where Delhi Sultanate ruler Alauddin Khalji was allowed to watch a reflection of the Rani by replacing the mirror at such an angle that he couldn't see the room even if he turned back. Rawal Ratan Singh, Rani's husband, had warned Khalji that if he turned back, they would cut his neck.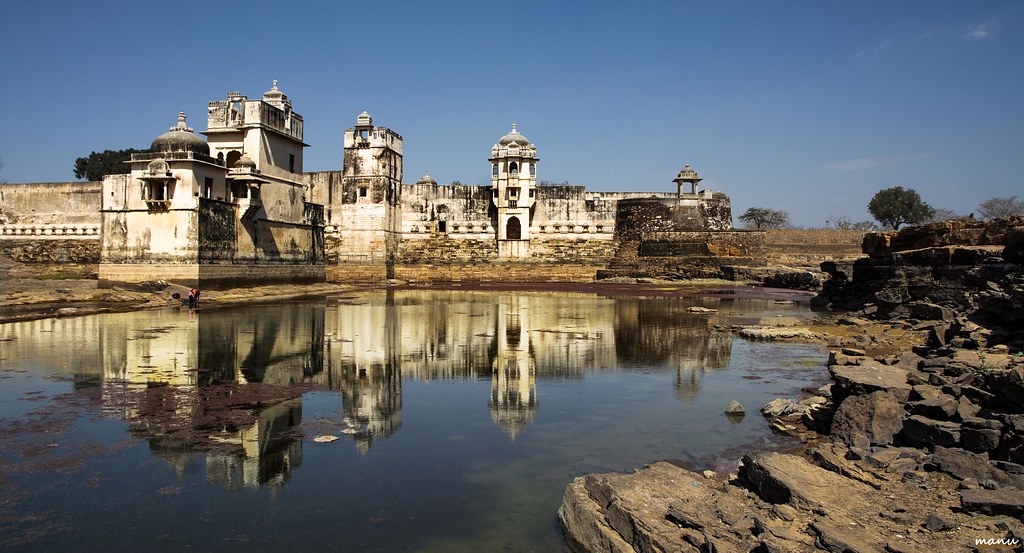 The Kirti Stambh (Tower of Glory)
The Kirti Stambh (Tower of Glory) is a 22-meter high tower built in the 12th century AD. Kirti Stambh can be found in Chittorgarh Fort. It is dedicated to Rishabha, Jainism's first Tirthankara. A merchant built it and it is decorated with Jain pantheon figures. Bikherval Mahajan Sanaya of the Digambara Jain sect built the seven-story pillar. On its four corners are engraved five-foot-high (about 1.5-meter-high) Digambar-style idols of Shri Adinathji, and elsewhere are engraved several small idols consecrated to Jain lineage deities.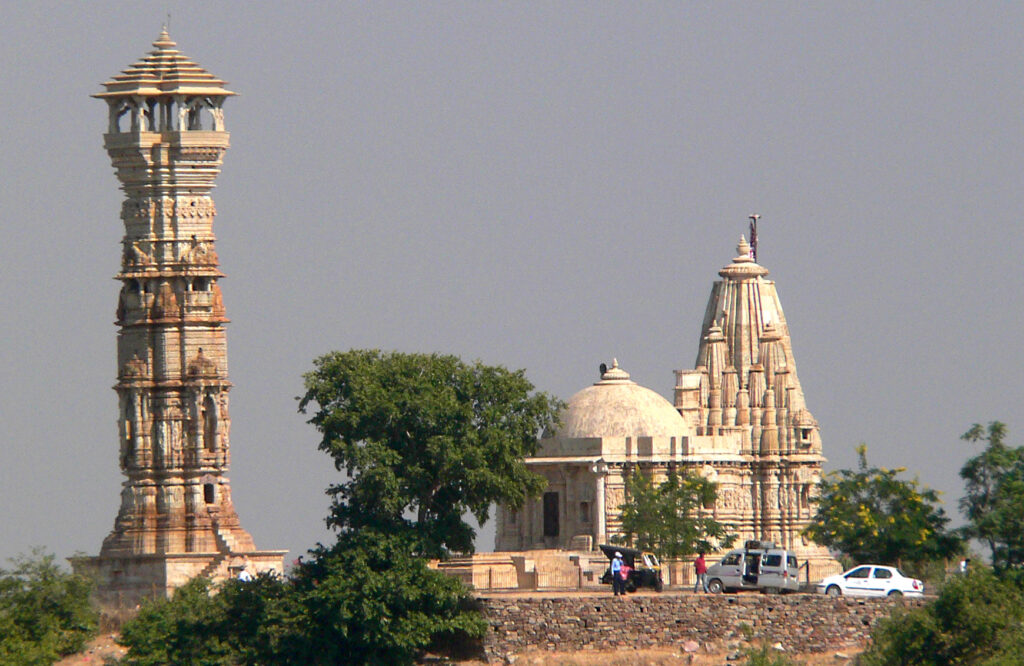 History
The Chittor Fort, originally known as Chitrakuta, is said to have been built by Chitranga, a mori king. Bappa Rawal, a Guhila (Gahlot) ruler, is said to have captured the fort in 728 CE or 734 CE.
Some historians, however, question the veracity of this legend, claiming that the Guhilas did not control Chittor prior to the reign of the later ruler Allata.
In 1303, Alauddin Khilji, the ruler of the Delhi Sultanate, defeated the Guhila king Ratnasingh and took control of the fort.
The fort was later captured by Hammir Singh, a Guhila king of the Sisodia branch. Chittor rose to prominence during the reigns of his successors, Rana Kumbha and Rana Sanga.
Bahadur Shah of Gujarat besieged and conquered the fort in 1535. After he was driven away by Mughal emperor Humayun, he returned the fort to Sisodias.
The Mughal emperor Akbar besieged and captured the fort in 1567–68.
As part of a peace treaty signed in 1615 between Akbar's successor Jahangir and the Maharana of Mewar, Amar Singh I, Mewar accepted Mughal suzerainty, and the fort and surrounding areas were given to Mewar. However, because of the military threat posed by the fort, it was never fortified or even repaired. It was later occupied by the British Indian Empire.
Frequently Ask Question
1. Is it worthwhile to go to Chittorgarh?
→ Chittorgarh Fort has a rich history, having witnessed numerous battles. If you have time, you should definitely visit Chittorgarh because each fort in Rajasthan is unique in its own way. Chittorgarh has a 90-foot-tall Victory Tower, as well as a famous pond and temples.
2. Why is Chittorgarh famous?
→ Chittorgarh is home to the Chittor Fort, India's as well as Asia's largest fort. It has the glorious history of the Hindu Rajput rulers who fought valiantly to keep their independence.
3. Which is India's largest Fort?
→ The Chittorgarh Fort in Rajasthan is India's largest fort and a UNESCO World Heritage Site.
4. How many days are sufficient to explore Chittorgarh?
→ Ideally, 2 days are sufficient for exploring and traveling in Chittorgarh. This allows you to visit the entire Chittorgarh Fort complex, as well as wildlife sanctuaries such as the Bassi Wildlife Sanctuaries, ancient temples such as the Kalika Mata Temple, and Sanwariyaji Temple, and palaces such as the Ratan Singh Palace, etc.